Partnership to support the rehabilitation of women from sex trade in Ethiopia.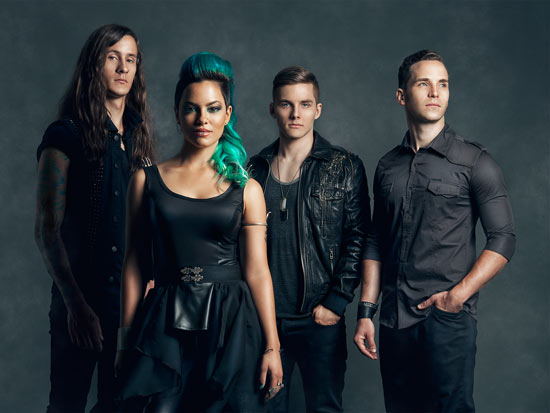 NEWS SOURCE: MochaClub
August 25, 2015
Brentwood, Tenn. – Mocha Club and the band Veridia announced today a partnership to change communities in Africa. With the launch of the Only The Crazy Survive Tour on September 15 and continuing through each date, Veridia will share the work of Mocha Club and ask concert-goers to join in on the efforts.
"I am honored to be able to partner with an organization like Mocha Club who is helping change the lives of women in Ethiopia," said lead singer, Deena Jakoub. "The work Mocha Club does is close to my heart and something I've been passionate about for years, spreading awareness to end the sex trade that tragically spans our world. To use our tour and be able to share the stories of these women and support them directly is just a start, and we're so proud to stand with them in their triumph."
Proceeds raised for Mocha Club on the Only The Crazy Survive Tour will benefit Mocha Club's work with women who were previously forced into a life of prostitution as an attempt to escape poverty. This program counsels women toward a healthier, self-sustaining lifestyle after leaving a life on the streets in Ethiopia, and it carries an 88% success rate over the last 10 years of bringing women off the streets for good.
Mocha Club supports this initiative and many others in Africa, ranging from education to providing basic needs for orphans. Each outreach is possible thanks to the commitment of more than 36,000 Mocha Club members who have joined to support one of five project areas: Healthcare, Education, Economic Freedom, Clean Water and Orphan Care. Adds Brandon, guitarist for Veridia: "I look forward to being an example for other guys out there to step up, be a voice and support work like Mocha Club is doing for women caught in sex trafficking. Together we can make a difference."
The Only The Crazy Survive Tour begins on September 15, 2015 in Birmingham, AL. The tour is the first headline tour for the band that is signed to Word Entertainment.
Tour Dates:
9/15 – Workplay Theatre – Birmingham, AL
9/16 – Stickyz – Little Rock, AR
9/17 – Warehouse Live Studio – Houston, TX
9/18 – House of Blues – Dallas, TX
9/19 – 89th Street Collective – Oklahoma City, OK
9/22 – Outland Ballroom – Springfield, MO
9/23 – The Record Bar – Kansas City, MO
9/24 – Firebird – St. Louis, MO
9/25 – Emerson Theatre – Indianapolis, IN
9/27 – Schubas Tavern – Chicago, IL
9/29 – The Stache – Grand Rapids, MI
9/30 – The Shelter – Detroit, MI
10/2 – The Basement – Columbus, OH
11/3 – Madison Live – Covington, KY
11/4 – House of Blues – Cleveland, OH
11/9 – 3rd and Lindsley – Nashville, TN
To keep up with daily happenings, follow via Twitter and Instagram at @VERIDIA. Follow Mocha Club on Facebook, Twitter and Instagram (@mochaclub).
About Mocha Club
Mocha Club is a community of more than 36,000 who have given up the cost of a few mochas a month to fund development projects in Africa. Working in five main project areas – Clean Water, Education, Economic Freedom, Orphan Care, and Healthcare – Mocha Club is active in 15 countries in Africa. For more information, visit http://www.themochaclub.org.
About Veridia
VERIDIA is a unique fusion of alt-rock with electronic elements, wrapped around the evocative vocals and presence of front woman, Deena Jakoub. Of Egyptian descent, Deena's look and voice when mixed with the electronic/rock soundscape provided by co-founder and guitar player, Brandon Brown, drummer Kyle Levy and guitarist Trevor Hinesley is capturing fans at every show. VERIDIA, whose music has been used by ESPN during NCAA coverage, has played to over one million people since 2014, including major festivals such as Voodoo Experience and Suburbia Music Festival.