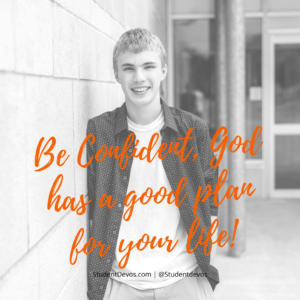 There was a student in my school that everyone seemed to like. He didn't wear the best clothes. In fact, he didn't even like lots of the video games and things that were popular. He wasn't the smartest, he wasn't a good athlete, he wasn't good at band or music and yet almost everyone at school liked him. Why did everyone like him? It was his confidence.
His confidence made people respect him and want to be around him.
I think that's a great lesson for us. We don't always have to everything together. But, if we are confident in the right things, it will impact our future for the good.
Today's Key – Be Confident, God has a plan for your life!
There is one thing that you can be confident about and that is that God has a plan for your life. You might feel insignificant or overlooked. You may feel misunderstood, but the truth is your feelings aren't a true indicator. Feelings are fickle and will let you down. The truth is, you're important.
may he equip you with all you need for doing his will. May he produce in you, through the power of Jesus Christ, every good thing that is pleasing to him. All glory to him forever and ever! Amen.
 – Hebrews 13:21 (NLT)
God has a plan for your life. You can be confident in that plan. God wants to see you grow in Him and accomplish good things. God's plans are always good.
So today, if you've become discouraged, challenge yourself to focus on God. Become confident in the fact that He has a plan for your life. You matter. And you're vital to God's plan on the earth.
---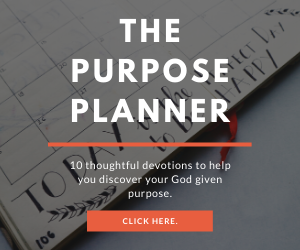 Want to learn more about God's purpose for your life? We've got a 10-day devotional designed to inspire you and challenge you to impact the world for Jesus.
Through thought provoking questions and scriptures, you'll start your journey to discover God's great plan for your life!