The LORD is on my side; I will not fear: what can man do unto me? – Psalm 118:6 (NIV)
Have you ever felt left out? I remember a time when I was the only friend that wasn't invited to a birthday party. Situations like that can make you feel really bad. Even when people let you down, you can be encouraged that God is always on your side.
Today's Challenge: Fix your focus on God.
God isn't going to leave you out or forget you. Unlike friends that can be fickle, God is always on your side. That means that no matter what happens you win!
God plus you is greater than anything you face.
So if fear has been an issue in your life, determine to focus on God. Fixing your focus on God will bring you freedom from fear.
---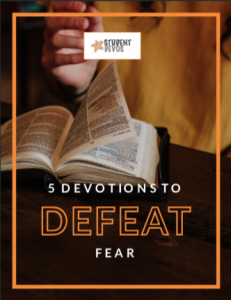 If you'd like a resource to help you in your battle with fear, check out our teen devotion: 5 Devotions to Defeat Fear.