The generous will themselves be blessed, for they share their food with the poor. – Proverbs 22:9 (NLT)
When I was in college, God really began to deal with me about generosity. I had an apartment, a decent job, and was going to school. I began looking for ways to be generous to others.
I'd go out to a restaurant and decide to buy a friend's food. I'd be in class and hear about someone who had a need and decided to hand them some money to help with their bills.
It was amazing how freeing it felt to be generous.
Today's Challenge: Be Generous
God wants us to be generous to others. He does this because he knows what generosity does to our hearts. It's hard to be depressed when you're always looking for ways to bless others around you. When you begin to take your eyes off yourself and look for needs around you, it brings you happiness in ways you can't imagine.
God challenges us to be generous because not only does it help others, it helps us too. 
God doesn't want us to live our whole lives completely focused on ourselves. Instead, he wants us to begin to look for ways to bless others. Maybe you don't have a ton of money, but what could you do?
Could you give some time to someone who needs help? Perhaps you could write a card to a friend that is having a bad day or do something small like buying a friend a bottle of water. Ask God to begin to show you ways you can be generous.
As you practice generosity, you'll be surprised how much joy you experience. So today, begin to take your eyes off yourself and look for ways to help others!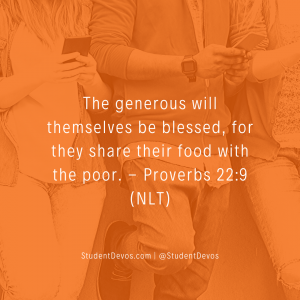 ---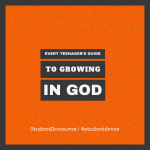 If you liked today's devotion, challenge your faith by downloading Every Teenager's Guide to Growing In God. It will help you grow closer to God by helping you develop Godly habits in your life.