CAPITOL CHRISTIAN MUSIC GROUP ANNOUNCES THE OCTOBER 15 RELEASE OF
"MY HOPE: SONGS INSPIRED BY THE MESSAGE AND MISSION OF BILLY GRAHAM" 12 BRAND NEW RECORDINGS FEATURING MICHAEL W. SMITH, TOBYMAC, AMY GRANT, ISRAEL HOUGHTON, KARI JOBE, MATTHEW WEST AND MORE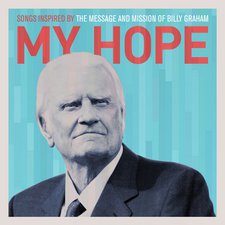 NEWS SOURCE: Merge PR
July 17, 2013
NASHVILLE, TENN. -July 17, 2013 -Capitol CMG will release a special tribute to Billy Graham on October 15. This release, "My Hope: Songs Inspired By the Message and Mission of Billy Graham," will feature 12 brand new recordings from the industry's top names including Michael W. Smith, TobyMac, Amy Grant, Israel Houghton, Kari Jobe, Matthew West and more. See below for the complete list of artists featured on "My Hope."
"We have been privileged to create this special album honoring Billy Graham, who's message has had a profound life changing influence in each of our lives and in the hearts of people throughout the entire world, " comments Peter York, President, Capitol CMG Label Group. "Our sincere desire is that this collection of songs bring honor to Dr. Graham and the cross of Christ that he has faithfully represented over his many years of ministry. This project was written and recorded out of great respect and appreciation for this incredible man and his message of hope to the world."
This project coincides with the My Hope America with Billy Graham evangelistic outreach as well as Billy Graham's upcoming book from W Publishing, "The Reason For My Hope: Salvation." My Hope America culminates in November, the month of Graham's 95th birthday, as people across the nation invite friends and family to their homes to hear a message of hope he has specifically recorded for the campaign.
"This is such a great project," shares Michael W. Smith. "Everyone has come together out of our tremendous love and respect for Billy Graham. The impact he has had on all of us and the impact he has had on eternity is immeasurable. This is our attempt to pay honor to someone who has been an example, a mentor and an inspiration to all of us. I'm excited about the artists that are a part of the project and I'm excited about the thoughtfulness behind each of the songs. I think it truly is a collection of music that honors this great man."
Each of the artists included in the project has a special connection to Billy Graham and his incredible ministry. Matthew West shares his life-changing connection with Reverend Graham, "On a summer day in the Chicago suburbs in 1990, a thirteen year old kid was changing the channels on his TV, looking for a Cubs game. But instead of a baseball game that day, he found a Billy Graham crusade. That young boy was me, and I will never forget the day I asked Jesus into my heart and how God spoke to me through Billy Graham. Being a part of the 'My Hope' project is a real full circle moment for me, a chance to say through music what Rev. Graham's ministry has meant to me and so many others. Thank you Reverend Graham!"
"My Hope" Artists
Michael W. Smith
Israel Houghton
Kari Jobe
Newsboys
Matthew West
Tommy Coomes Band
Nichole Nordeman
TobyMac
Darlene Zschech
Amy Grant
Lacey Sturm
About My Hope with Billy Graham
My Hope with Billy Graham is a large-scale evangelistic outreach across the United States and Canada that combines personal relationships with the power of modern media. Through the project's focus on relationship evangelism, Christians are encouraged and equipped to open their homes to friends, family and neighbors, to share their faith. In November 2013, the month Billy Graham turns 95, he will broadcast the message of hope in Christ across the nation through various broadcast formats. Launched in 2002 by Franklin Graham, President and CEO of the Billy Graham Evangelistic Association, My Hope has been implemented in 57 countries to date, with more than ten million people making a commitment to Christ. Visit www.myhopewithbillygraham.org for more information.
About the Billy Graham Evangelistic Association
The Billy Graham Evangelistic Association (BGEA) proclaims the Gospel of Jesus Christ throughout the world by every effective means available. From its headquarters in Charlotte, N.C., the BGEA directs a wide range of domestic and international ministries, including: large-scale festivals led by evangelists Franklin Graham and Will Graham; The Billy Graham Library; The Billy Graham Training Center at The Cove, located outside of Asheville, N.C.; SearchforJesus.net, an Internet evangelism project reaching thousands of people for Christ online; and many others through print, television, telephone, radio and the Internet. For more information, please visit www.billygraham.org. Get news updates on Twitter at www.Twitter.com/BGEAnews.
About "The Reason For My Hope: Salvation" Book:
Coinciding with the "My Hope" campaign, W Publishing Group is releasing "The Reason for My Hope: Salvation" – a new book by Billy Graham emphasising the timeless truths of Jesus Christ's message, how to bring believers back to their faith, and to inspire them to share this hope with others. Filled with stories of current world happenings, Graham once again calls the world back to its spiritual priority as only he can. "The message of this book is my hope for you," says Graham. "And my prayer is that you will be filled with the dividends of joy and peace in believing that you can abound in such hope that rescues from all that hinders, bringing you into a living hope of salvation." "The Reason for My Hope" will release on October 15th and available in stores nationwide.