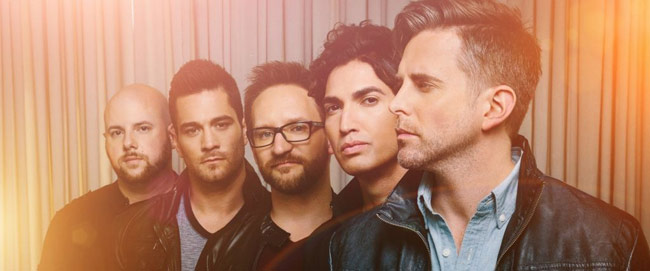 NEWS SOURCE: The M Collective/JFH
July 1, 2015
Nashville, TN…. July 1, 2014 – After a 20 year history together, GRAMMY nominations, Dove Awards, seven albums and six No. 1 singles, Matt Hammitt, the lead singer of Sanctus Real, has announced he will be leaving the band this December. Both Matt and his fellow band members have taken time to draft personal statements so that their fans can hear from them first hand and in their own words.
The band has announced their "Farewell To A Friend" tour this fall, which will be Hammitt's final tour with the band. Sparrow Records will release a Greatest Hits project from Sanctus Real this October, featuring the band's top hits over their 20 year career and a new single, which will release in the fall as well.
Matt Hammitt (read full statement below — link to this and prayer requests here):
"Last November, I started to feel a spiritual restlessness, sensing that God was leading me into a new season of life. After many conversations with God, family and friends, I came to realize a new calling, one that would require me to make the difficult decision to leave Sanctus Real.
Both the band and I have prepared heartfelt statements about this change, and about where God is leading us. Below is my full statement about this news, as well as Episode 1 of "The Lead Me Lifecast," also about my decision to leave Sanctus Real…"
Dear Friends,
A blog post isn't nearly enough space to recount or describe what I've experienced with my friends in Sanctus Real over the past twenty years. I'm so grateful for what God has allowed a few guys from Toledo, Ohio to experience together. I don't take it lightly, the ability that songs have to impact the hearts and lives of those who hear them. Experiencing this God-given mystery with my friends in the band has been one of the greatest joys of my life.
I want to thank my band mates, current and former, but especially Mark and Chris for allowing me to share in this incredible season of life with them. And of course, to our families, you are the backbone God has blessed us with. Thank you for holding down the fort. I love and appreciate you.
And to you, our friends and fans, you've been so good to Sanctus Real and to my family. The support you have given us has been more than we could have wished for, and for that I'm eternally grateful.
To everyone in the Christian music industry, from our label, agents, managers, friends in radio, promoters, other artists and everyone in-between, I sincerely thank you. I am proud to be in Christian music.
Like all children, when I was young, people would ask me what I wanted to be when I grew up. I remember answering, "A missionary." It may seem like unconventional missionary work, but I have genuinely viewed my time in Sanctus Real as a mission to build Christ's church through words and music. If you've listened to Sanctus Real or supported us in any way, you've been a vital part of that mission. Thank you from the depths of my heart.
Over the past few months, I've felt the Lord calling me into a new mission field, into a new season of life. If you want to hear the intricate details about my decision to leave Sanctus Real, I've discussed it at length in the first two episodes of "The Lead Me Lifecast." I open each episode by saying that, "I've been traveling far and wide singing the song 'Lead Me', but now I want to sing it less and live it more." I mean that genuinely, with all of my heart. I've always struggled to reconcile my life on the road away from Sarah and the kids, but after all these years I'm now confident that my calling is to be at home more, consistently making God and family my ultimate priority. My primary gifting as a communicator is simply sharing my life and heart with people, and they're going to get the best of that.
Many of you know that my son, Bowen, is living with severe heart disease. I'm thankful for so many of you, who have walked and prayed with us through this. We're so grateful that he's almost five now, but we live with the realities of his chronic, progressive disease each and every day. Because of our work assisting hurting families through Whole Hearts Foundation, we are constantly reminded that we can't take a day we get with Bowen for granted. This is another reason my family needs me, and I need them.
It's important for me to be clear that I'm not giving up music. Music is in my soul and is my primary expression of life and faith. In addition to making music, I'll be talking a lot about marriage and family in the coming years. There are a lot of people encouraging others to go out and be great in the world (and they should), but I feel a calling to encourage others, especially men, to be great behind their own front doors. As I dedicate myself to being a greater husband, father and spiritual leader, I'll be encouraging others to do the same through my music, "The Lead Me Lifecast" and the "Lead Me Live" events coming in 2016.
Your support has meant so much to me and my family, and I'm inviting you to join our mission moving forward. At the bottom of this letter, I've put a list of simple, practical list of ways that you can join us.
With Love and Gratitude,
– Matt
Chris Rohman also wanted to share thoughts on behalf of he and the rest of the band on Matt's departure and the future of Sanctus Real (read full statement below from SanctusReal.com);
A LETTER TO OUR FRIENDS –
Twenty years of traveling the world with my brothers has been incredibly rich. From the late night conversations on the open road and early mornings shared in dimly lit hotel rooms, to the enlivening smell of shows being played out in the pouring rain. All of this has been part of a plan I believe, and has shaped my life in ways that I am eternally grateful for.
Many incredible people have given their talents to this band and without their support and sacrifice we would never have made it out of my parent's basement, out of Ohio, or maybe more importantly to me, out of my own head. You see to have a dream requires a belief that you can achieve something bigger than anything you could hope for by yourself. And for Mark and I we could have never had this dream of Sanctus Real without Matt. We were three wide-eyed kids with hopes of blazing a trail and reaching people with the Gospel when we signed a record deal fourteen years ago. And now we're three men blessed to see the impact all these years of writing songs and traveling the country have made. We're husbands and fathers with a responsibility to sow into our families the same love and faith that caused us to come together as a band of believers in the first place.
It is with this responsibility in mind that Matt first came to us distressed by the balance of life lived out on the road and a life being played out at home while being gone. For each of us this balance has been a delicate lesson to learn over years of touring and countless goodbyes to our loved ones. Add to this the fact that Matt and his wife Sarah have a son with congenital heart disease and the balance can become nearly impossible.
I feel it's necessary at this time to be transparent with you, our family – the ones who have shared some of your greatest struggles, trials, and victories with us along the way. Our fans who have shown more than just support by buying our records and coming to our concerts, but have actually prayed for us and welcomed us into your lives. You've probably been drawn in like I have by the feeling there's something that's made Sanctus Real feel like more than just a band. Something greater has allowed us the ability to write from our hearts and communicate with song in a way unique to who we are and where we've been. Only a grace as deep as God's love could allow three guys to commit the better halves of their lives to a mission such as this.
So you can imagine after almost 20 years of experiencing God move within our tight-knit little world how difficult it might be to watch one of us being called out of it. Just as you have shared with us your stories and how our songs have impacted your life, we are in turn asking for your prayers to impact our hearts in the same way. There is no doubt in my mind that God's hand has been on this band since day one and that His love continues to pour into each of our lives as we continue to ask for his direction. We fully support Matt's decision to step away from his long-held position as the voice you've come to know as Sanctus Real's lead singer. And after many deep conversations, though I know this conclusion did not come easy, all of us as brothers feel it is the right decision for Matt and his family. We are equally supportive of the new endeavors Matt will begin as he desires to minister to families through various podcasts and events that seek to help families grow stronger and fight against the complacency that so many husbands struggle with behind their own front door. It is a noble calling and one that I personally can attest is very real and dear to Matt's heart.
As for the rest of the band… This is a time for us to ask you to pray for us. We have a passion to use the platform of Sanctus Real to write new music that will continue to influence not just the church world, but reach well beyond anything we could imagine and offer hope to the lost and weary wherever they are. Some may say it's just music. But to me it couldn't be anything more. Music filled with the Holy Spirit speaks to my soul, it's what moves me and it's a gift God uses to bring incredible life-change to those that hear it.
There may be those of you that are staring right now into the same horizon in your own life, wondering what comes next. Waiting to hear that voice calling you into what seems to be strangely unknown. I'm drawn to this passage from Psalm 126:
1 A pilgrim song
It seemed like a dream, too good to be true,
when God returned to Zion's exiles
2 We laughed, we sang we couldn't believe our good fortune.
We were the talk of the nations – "God was wonderful to them!"
3 "God was wonderful to us; we are one happy people.
4 And now, God do it again – bring us rains to our drought-stricken lives
5 So those who planted their crops in despair will shout hurrahs at the harvest,
6 So those who went off with heavy hearts will come home laughing, with armloads of blessing.
It has been during this time I've been able to look back at the blessings this band has encountered and know they could have only been graciously poured out by our heavenly Father. And it's also at this time I've been able to ask God to do it all again. To hope as I did back when we took our first steps as teenagers looking into a bright horizon that there is a new trail for us to blaze.
We may not yet know what Sanctus Real will look like in the months to come but I do know that God is allowing each of us to pause in the moment. To learn. To love and to trust that He is in control.
I look forward to seeing you out on the road and It's from the depths of my heart that I give thanks to you for all the support and prayers.
— Chris