Plot Summary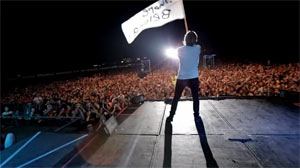 Inspired by such films as
Rattle and Hum
and
Endless Summer
,
Fading West
follows Grammy-winning alternative-rock band Switchfoot as they travel the globe in search of new musical inspiration and perfect waves. Directed by Matt Katsolis and filmed during Switchfoot's 2012 World Tour,
Fading West
charts the creation of the San Diego-based fivesome's upcoming ninth album in its earliest and most unpredictable stages. As the band visits legendary surf breaks in Australia, New Zealand, Africa, and Bali, brothers Jon and Tim Foreman breathe fresh life into their songwriting and sound by harnessing the spirit of their stunning surroundings and mining new emotional depths. Part rock documentary, part surf film, and part travelogue,
Fading West
offers rare glimpses of the longtime surfers on their boards and in the waves, captures the frenetic energy of their live shows, and in the end portrays a journey both epic and intimate. (from
interpretstudios.com
)
Film Review
Since the release of their eighth album,
Vice Verses
, rock band Switchfoot has been talking about making a film as the next creative step in the band's long career. Since their humble beginnings as a three-piece in 1997, Switchfoot has been touring the globe, bringing their brand of hopeful pop rock to the masses. With numerous albums, EPs, live DVDs and more, making a feature-length documentary film was something entirely new for the San Diego, California quintet. And with Switchfoot dubbing the film as their personal band's story, fans have been anxious to see what exactly
Fading West
would deliver.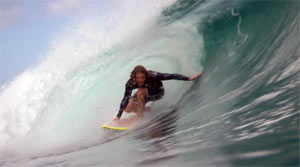 For Switchfoot's Fall 2013 "Fading West" tour, the band took their new film on the road with them, merging film "screenings" with a shortened live performance, making it an especially intimate evening with Switchfoot. This is the only way to see the film before it's given a digital release later in the year in December. At the concert, the film began shortly after the evening's scheduled start time, and was given a special video greeting by the band, followed by some sponsors, and then an introduction in person by a couple of band members. What the movie then unfolds as is a portrait of their experiences on and off stage during their 2012 World Tour, which took them to Australia, New Zealand, South Africa, and Bali. It then all circled back home to San Diego for their annual Bro-Am festival. One thing diehard fans can expect Fading West to contain is heaps of Switchfoot music as its soundtrack and copious amounts of on-the-board surfing footage.
While the band has frequently called the movie "our story," fans may be surprised by how much the film does not cover. What you won't find in Fading West is a history of how Switchfoot got started as a band, how they upgraded from three members to five, how their album The Beautiful Letdown took their success and exposure to new heights, or any other details about their past career (aside from some fleeting references to the early days). Fading West is aptly titled since the film really does serve as a chronicling of their journey in making the album Fading West. Some may even be tempted to call the documentary an 80-minute trailer for the album, but ultimately, this story brings about a peek behind the curtain into the making of a Switchfoot album that few people get to witness. The songs from Fading West, including the four songs on their new EP, serve as the soundtrack to the film, and they work beautifully to help capture the wonderment and adventure that these five men experience in their travels. Because the album was written while they were on this trip, we often will hear the song being played over footage from where it was they had been visiting when the song was written. We also see some short peeks into writing sessions the guys have (even showing vocalist Jon Foreman presenting a song idea to his brother Tim at one point), and it really helps bring a depth to the album experience that few other bands are able to deliver when fans are given new music.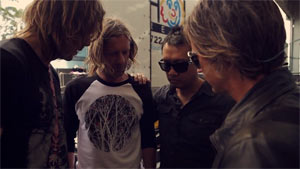 Not everything is sunshine and sea spray for the Switchfoot guys, however. While many scenes are grounded in comedic moments and exquisitely captured scenic and surfing shots by the folks with Interpret Studios (namely cinematographers Nic McLean, Russell Brownley, Matt Katsolis), an intensely dramatic experience was captured on film while the band was in Australia. After getting off the stage at one show, frontman Jon Foreman received the news via text message that his very young daughter Daisy had needed emergency surgery while he was halfway around the world and unable to be there for his family. The emotion was intense for Jon and the rest of the band, and he decided he needed to be home as soon as possible. Unfortunately, it would take 30 hours for him to get home, making the sacrifice of being on the road a harsh reality. The other four guys remained in Australia without him and waited for news on Daisy's health. And once Jon reported back that everything was okay, the guys moved on to New Zealand without their lead singer and continued to write songs without him (including one born out of this harrowing experience). It's this intense moment, coupled with images like guitarist Drew Shirley leaving his family behind for the trip and Tim expressing to his brother his struggles with guilt for being away from his family in times when he's desperately needed, that are deeply emotional and bring significant weight to the film and to the songs these guys write. Anyone who's ever felt a connection with the band's songs will likely find these moments truly heartbreaking.
But it may surprise some viewers less familiar with Switchfoot that this is the extent of the conflict in the film; we see no fighting, no quarrels, no dissension. And it's the fact that there's so much hope, joy and brotherly love that surround these guys and this story that make it a truly upbeat and enjoyable film to watch. These guys have devoted their lives to their families and bringing hope to all who will listen, and it certainly hasn't come without cost. The band's personal faith does bubble up to the surface here and there throughout the film as well, but it's never preachy or focused on for very long. However, topics of faith versus doubt in hard times and prayer do get touched on, but those looking for anything really bold will be disappointed. However, I thought it was handled relatively well given the nature of the film. As far as other content goes, there's no profanity or objectionable content like that. There are two bleeped out uses of profanity, but one is by a guy being interviewed at a concert, while the other is used candidly by a member of Blink 182 during the interview. It's otherwise a pretty family-friendly film that fans won't have to worry about their young ones seeing too.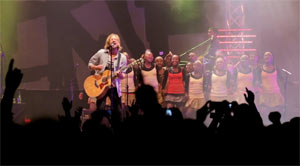 If you're not open to the idea of watching lots and lots of surfing footage, you might be put off by just how much of it is in this film. There may even be more footage out on the water than of the band on stage. Because surfing plays such a big part in the lives of the Foreman brothers and Chad Butler, it shouldn't be surprising that the guys consider Fading West a "surfing movie." Three-time World Champion surfer Tom Curren makes an appearance in the film when the band goes to New Zealand and they invite him to join them. We see some great footage of Curren out on the waves as well as a momentous occasion captured on film when Curren joined the four Switchfoot members (while Jon was absent) for a jam session one night in a bar. Later in the film, professional surfer Rob Machado joins the guys for some surfing in Bali that tests their strength as surfers as they suit up in intense gear to brave the frigid, shark-infested waters. It's all some of the most gorgeous surfing footage you'll find on screen (without a hint of special effects, I might add), but chances are some might be more anxious to see more about the writing sessions or on-stage footage than their boarding experiences (bonus features on the DVD release perhaps?). For anyone hoping that Fading West includes full live songs in the same way a live concert recording might, they'll be hugely disappointed. There isn't a single live song presented in full during the film, but chances are the band hoped to show fans something new in revealing a side that is seldom visible to them. Still, all of the surfing footage, by the time we get towards the tail end of the film, does make it feel a little on the long side. But the excellent soundtrack that complements it, accompanied by beautiful imagery and the infectious excitement radiating from the guys riding the waves makes it largely forgivable and therefore enjoyable.
Fading West might not be the film the average Switchfoot fan may be expecting, but what it is is a snapshot of a unique season in the band's impressive career that shares the journey with anyone willing to come along for the ride. The little interviews the guys sprinkle throughout the film are highlights, as well as most of their off-stage antics–and seeing Jerome and Drew experiment with sounds in a market in Bali or the guys singing along with African children for a new song, and then later recording their own children to serve as the choir of voices in "Who We Are"–is just wonderful. Clearly a labor of love best appreciated by diehard friends of the Foot, Fading West is a unique film that looks beautiful and offers a soundtrack of new songs that are as big and epic as the film's presentation. Switchfoot fans won't want to miss this.
– John DiBiase, (reviewed: 10/7/13)
Parental Guide: Brief Summary of Content

Sex/Nudity
: Just some shots of women in bikinis and shirtless guys at the beach and surfing. Nothing senusal or explicit.

Vulgarity/Language
: Maybe 1 "sucks" and a couple "Oh my G-d;" Two words are bleeped out as used by other people NOT in Switchfoot. 1 "S" word is bleeped that a concertgoer used and 1 "F" word is bleeped that was used by a member of Blink 182 in an interview.

Alcohol/Drugs
: There may be some drinking seen by patrons at concerts in the background, but nothing significant or relevant to the main story.

Blood/Gore
: We briefly see a severed, slightly gory fish head that someone shows the Switchfoot guys.

Violence
: None.
** Disclaimer: All reviews are based solely on the opinions of the reviewer. Most reviews are rated on how the reviewer enjoyed the film overall, not on content. However, if the content really affects the reviewer's opinion of the film, it will definitely affect the reviewer's rating.
Fading West the movie will be available for Digital download in December, and Fading West the album will be available on January 14th!