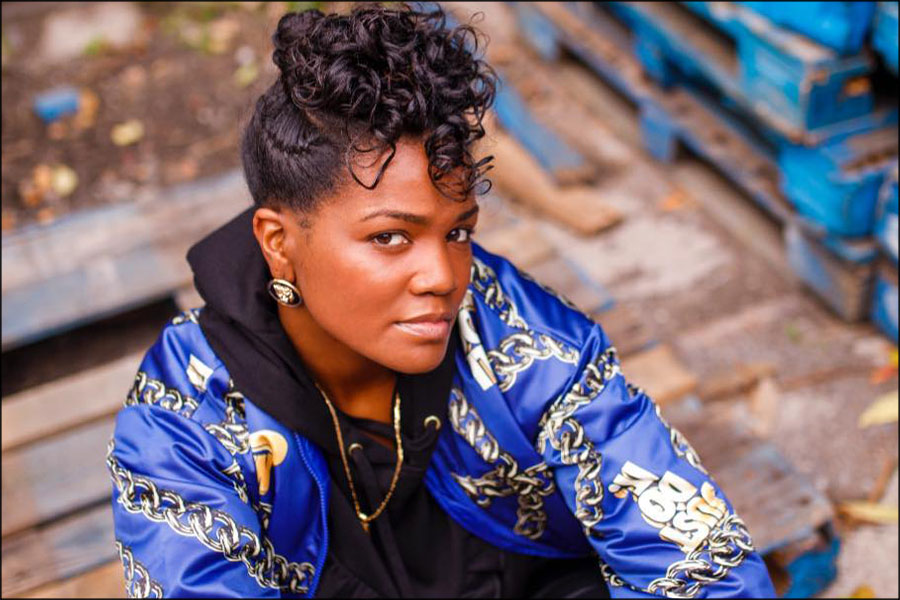 Each week, dozens of singles and a handful of projects are released in the Christian Hip-Hop (CHH) and Urban Soul spaces. Below, we listen to a few highlights and list the rest for your own discovery. As always, follow our New Christian Rap & Hip Hop playlist on Spotify and Apple Music to listen to all the latest.
A.I. the Anomaly – "Bonnets & Bantus" (prod. by Carolinah Blu)
Buffalo's own A.I. the Anomaly returns with her first new music since December's collaboration EP with Selah the Corner. She's returned to the status of an independent artist, no longer connected with Bizzle's God Over Money label. "Bonnets + Bantus" showcases her precision lyricism and artistic mindset. Another brilliant creative from Buffalo assisted with production credits on the single, as A.I. and Blu work together quite often.
One of my favorite lines from the track is, "Word hard, eat good, money ain't no thing / Hubby with my back, got the sig on squeeze / plus my two kids all the team I need." The unique value of her flow and cadence ranks high placing her as an elite emcee. The track expands on the hard work, determination, and constant grind she's known for. A.I. stands for "All in" ideal for her work ethic. She's always pouring back into her community, strengthening family values, and is a firm example of what CHH always intended to represent. Stream "Bonnets & Bantus" on Apple Music here.
 
Legacy – "I GOTTA DO" (prod. by Torino P)
The Nigerian-born, Toronto-based rapper is in album mode prepping for the release of his next project, titled saints sell white too. The title chosen is a play on words that flips control of culture's dominant narrative, into the hands of the believer. Also, the message further illuminates the heart of Jesus' message; to preach the gospel!
The second single from the forthcoming album reminds me of a soulful, yet gritty mixture between Marvin Gaye and J. Cole. The production was provided by Torino P, one of the premier producers in Canada. The track is, essentially, a 180-minute freestyle stacked between brilliant song sampling. Legacy provides a buffet of fast-paced bars, precise wordplay, and a few hidden verbalized gems. One of my favorite lines was, "I'm feeling like it was obvious to know that it is not obvious / it's hidden in the sand / written by a colonizer that's not white." I'm thinking quite a bit of meaning is behind those bars like most of the track's remaining contents. That's one reason I love hip-hop, so much to unpack in authentic lyricism. If you're not familiar with Legacy, catch up before it's too late. Once this album drops, it's game over and only up from here. Stream "i gotta do" on Apple Music here.
 
Bandito 2 by Nu Tone
West Coast (Stockton, California) rapper, Nu Tone, returns with the sequel to his 2021 album with 10 brand-new tracks to celebrate several independent CHH artists and their contributions to the space. The feature list is extensive including GamFam, N!X, Xay Hill, Jay Steezy, A. Ruiz, and several other up-and-coming artists. Liam Bushey and 100graham tag-teamed the production duties for the album. Nu Tone stated, "I just let the Lord help connect the dots. No crazy, big features, but just people that go hard for the Lord." It's evident he has a firm grasp of the ministry aspect CHH provides and brings Christ to the troubled streets. 
Personal standout tracks are "Turn Around" featuring Xay Hill and N!X, "Freedom Sound" featuring Ashlee Keyton, and "Not Luke Warm" featuring James Da Barber. One thing I appreciate is the ode to Nu Ton's culture with several Spanish-driven tracks included. The project showcases his versatility on the mic. Also, listeners gain a piece of insight into who Nu Tone is respectfully and an up close and personal viewpoint of his strong faith walk. 
Nu Tone is an active earpiece to the Glory of Our Lord, as his extensive music catalog provides a soundtrack to those in need of the impact The Gospels can have on an individual's heart. He's forever about Kingdom business. Stream Bandito 2 on Spotify here. 
More CHH and Urban Soul Albums & EPs
Listen to these on our CHH Spotify Playlist
Light Work 3 by Bizzle

I Found Some Tape #1 by Dj Em D x DEIV

Welcome to the Ministry by Servant

Blues and Roses EP by CALLEDOUTMUSIC
More CHH and Urban Soul Singles
Joseph Solomon – "black like you"

Arik Nelson – "Quick Sand"

MvkeyyJ – "OMG!"

Tylynn – "Big Miracles"

Xay Hill feat. DEON x Kevi Morse – "REDEEM ME"

Levi Mitchell – "Good Parts"

Hilltop Society – "Best in Me"

Reece Lache' – "Down & Low (feat. Kmo Shamaal)" and "Up Now"

Jude Barclay – "never called back"

SiahThyLegend x Swaizy – "IGHT BET"

GRAHAM – "Smoke and Mirrors"

Prodi Da Prodigal feat. ATTAM – "Shoot My Shot"

Apex Frazier – "Pink Sweater Shorty"

Zdiorx – "CITY GIRLS"

krstian x JUDO SAMMY – "GO!"

K.DOT – "E.S.E. Freestyle"

Doxamillion – "FAIRYTALES"

Chris TyK x Mitch Darrell – "GG (Good Game)"

TuKoolTiff – "Push It"

Warren Christian feat. Seth Benjamin x Shelby Little – "Okay"

Cory Ard feat. Evan Ford – "Up Now"

JusJames x JusRzd – "The Incredible"

Brenno – "STICK TO THE CODE"

Ray G x Ray Knowledge x OnBeatMusic – "NO DIFFERENCE"

Byron Rhodes – "Golden Child"

tylerhateslife x Rocco – "Intervention"

Kieran the Light feat. Eddie Clark – "Green Light Freestyle"

Adriel Cruz – "Make It Out Alive"

noah! feat. Aable – "FORREAL"

outr.cty x Main Event – "What We Doing?"

HYLEM – "Tic Tac"

Edify feat. J1W, Brenno, Joel Brenner, Mike Teezy, Miles Minnick, and Quese – "Scorched Remix"

Isaac Wheadon – "Late Nights"

Jonny Henninger feat. Eliza King – "Warfare"

DANMAR – "East Side Villain"

John Michael Howell – "Wave a Pen"

Shirlvin Desir – "Spiritual Warfare"

Survivor Q x Dedge P – "No More"

Matt Mogg x Titus Haskins – "I Got You"

Hills Music x Rehmahz x LambCulture – "Jesus (I'm Yours)"

JPK – "Bad News"

Jay Bizzze – "They Don't Want the Smoke"

PaultheMessenger – "Blackberry Squash"

Lazarus! – "BILLIE"

Si Knightly feat. Knick Knack – "Good Shepherd"

helloworld – "am I right?"

Noexcuse – "GET A GRIP"

YABOIRICH – "Preach"

Jay Violet – "PNK SKY?

KHIY x Kidd Lee – "Narrow Gate"

Madison Ryann Ward feat. Ty Brasel – "Unknown"
Joshua Galla is an audiophile hyped about all forms of art in music, but his passion rests behind CHH and soulful vibes. He's a devout husband, father, and child of God. Concerts are his happy place.