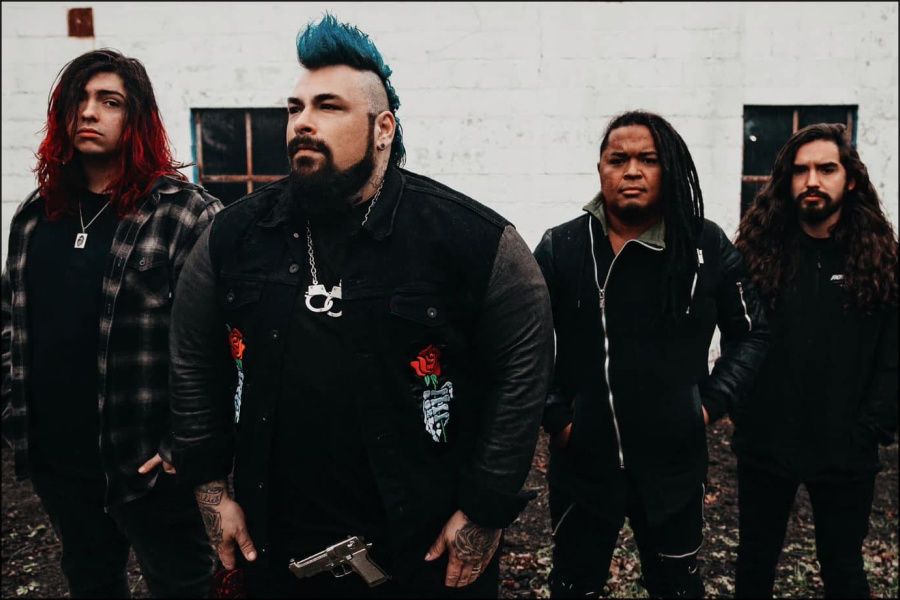 What's been one of your favorite festival moments? Though I wasn't present, I loved watching veteran band Flyleaf's reunion. Watching them play together at national shows is divine. Speaking of live music, there's a tour you need to get to if you're a Christian metal fan: The Aggressive Worship tour (tickets here). Its headlined by the rising metalcore act Convictions and supported by fellow Christian metal bands Confessions of A Traitor, Bloodlines, and Cultist. Depending on the date, you'll get different supporting acts: the best lineup in years. 
There's more exciting news about new music. Check out Lacey Sturm's latest rock single, "Reconcile," the fourth release from her upcoming sophomore album. She has assured fans on social media that the rest of the album is coming. Let's hope we get a date on that soon. Here's some of the best and latest new music.
Seventh Day Slumber – "A Bullet Meant For Me"
Christian rock pioneers Seventh Day Slumber are getting ready for a monumental release, their 14th studio record, Feasting on Vultures, coming out September 22. The band started the celebration early by releasing their lead single, "A Bullet Meant For Me." The song is deeply personal; it will be familiar if you've heard lead singer Joseph Rojas's testimony. "The song started from my perspective. I was convinced that the pain was mine alone, that I was the only one getting hit by the bullets because I was the one holding the bottle. But a comment from my son, Blaise, shifted everything. 'Daddy, you might not have felt anything, but we felt every shot.' Wow, that hit me hard, and I couldn't see the song the same way anymore."
 
Lacey Sturm – "Reconcile"
Lacey Sturm is known as the rock princess in the rock community for her time in Flyleaf and beyond, yet despite her title, she is one of the most humble and reflective human beings around. This is evident in her music, especially in the newest single, "Reconcile," for her sophomore independent record. She shares, "My own humanity can be so divided. When I cling to my rights by pointing out the faults of others, I splinter myself. All of this division is rooted in my own pride. Have I arrogantly supposed that I could somehow reconcile the world around me if I am not reconciled within myself?" You can tell the compassion she has for people needing peace and reconciliation in their lives, and that passion translates into a heavy-hitting anthem.
 
Cliffside – "Endless Wells"
A couple of years ago, I was impressed by the independent band Cliffside's skill in combining Christian spirituality and metalcore music. Their EP, Wilderness, was a highlight for 2019. After five years, we are now experiencing some of the finest metalcore music in the Christian metal genre, with the latest release being "Endless Wells." About the song, the band shared with me, "'Endless Wells' depicts a scenario where we have felt out of touch with our faith…We've often felt like we don't deserve grace, and we've often felt like we are getting pulled into the deeper mess of things…The track shines a light on the grace of what's available to us and the identity we can cling to in the war that has already been won: We are good enough and called to something."
Their new full-length album, Deeper Water, will likely be a new standard for Christian metal, based on the excellent singles they've released.
 
Listen to these new releases on our New Christian Rock Playlist and New Christian Metal Playlist on Spotify and Apple Music. Check out both playlists and consider giving them a follow and share. I hope you find some new artists and bands that you will love.
Other Christian Rock/Metal EPs or Albums
Listen To Spotify Rock Playlist | Listen To Spotify Metal Playlist | Listen To Apple Music Rock Playlist | Listen to Apple Music Metal Playlist
Cultist – Slow Suicide

Fallstar – Sacred Mirrors

Holyname – Initiation: Live In Chicago

Manafest – Words Are Weapons
Other Christian Rock/Metal Singles
Listen To Spotify Rock Playlist | Listen To Spotify Metal Playlist | Listen To Apple Music Rock Playlist
Thousand Foot Krutch – "War of Change (feat. Adelitas Way)"

Pipe Bomb – "False God"

Skillet – "Psycho in My Head – Live"

Wolves At The Gate – "Stupid Deep"

Switchfoot, Jon Bellion – "Meant To Live"

So Much Hope, Buried – "Apparition"
Previous Christian Rock Recap Editions
#31 Disciple, Set For The Fall, With Blood Comes Cleansing
Special Edition: Rocking the Faith
Ryan Adams lives in Montana with his family. He works as a professional game master and loves his newly adopted dog.