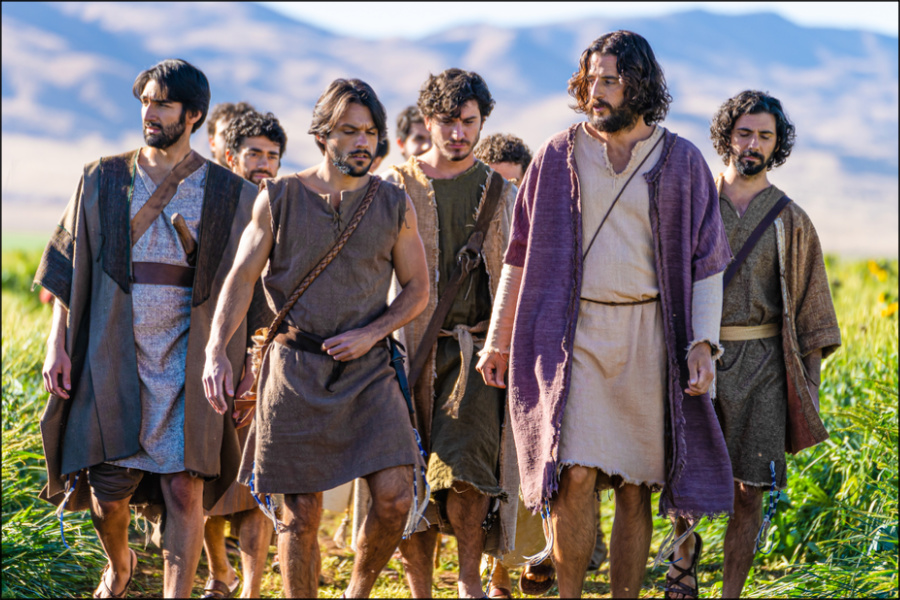 Watching movies with my family is one of my favorite pastimes. Disney+ is a staple in our household, and I love any chance I get to see a good movie in theaters. Movies like Star Wars and Enchanted have always been family favorites, and animated features like Tangled and Beauty and the Beast practically defined my childhood. But there's one genre that took a while for me to appreciate: Christian films.
I grew up in a Christian household, which exposed me to various faith-based movies over the years. And to tell you the truth, I didn't like most of them. Granted, there were a few I enjoyed. The 2015 film War Room became one of my favorites. And I remember laughing hysterically at Brother White when I was a kid. But most other movies? Straight up cringe.
But things are starting to change in the Christian filmmaking world. We have made significant strides from the Christian films produced in the early 2010s and are now ushering in a new era of quality Christian movies. With the emergence of filmmakers such as the Erwin Brothers, known for their movies like I Can Only Imagine and I Still Believe, we witnessed a gradual shift in the landscape of Christian filmmaking. The Erwin Brothers proved that Christian films could be worth watching. Instead of throwing around Bible verses and having cheesy dialogue, they wrote films with meaningful messages. Plus, their decision to cast exceptional actors like Dennis Quaid and KJ Apa greatly contributed to the success of their movies.
Shortly after the Erwin Brothers dropped their masterpieces, Angel Studios released their revolutionary show, The Chosen. So, the way biblical movies are produced has forever changed. They've brought the story of Jesus and the disciples to life in a new, authentic way. The Chosen's first season dropped in 2018. They're filming season four, with three more seasons in the works.
The year, 2023, is almost half over, and movie studios have already released some great Christian movies. From Jesus Revolution to His Only Son, there's been no shortage of excellent faith-based films. Today, I'll highlight five must-see Christian movies and TV shows. So grab some popcorn, find a seat, and settle in. You're about to take a journey through some fantastic new films.
His Only Son
I've seen a lot of biblically-based films that fall flat–you probably have, too. It can be hard to depict biblical stories on the screen authentically. After all, most Christian movies are filmed within the United States, not the Middle East. Between the landscape and lack of believable performers, I've found it hard to connect with movie adaptations of the Bible. However, Angel Studio's latest film, His Only Son, was different.
His Only Son is about the story of Abraham and the emotional journey he went through when God told him to sacrifice his son, Isaac. Although the movie was produced on a shoestring budget, the filmmakers didn't cut any corners. The film was shot in the California desert but maintained an authentic feel as if filmed near Jerusalem. The actors delivered outstanding performances, effectively capturing the range of emotions that the real-life figures from biblical stories must have experienced.
The overwhelming response to the film shocked movie critics. With a budget of only $250,000, His Only Son exceeded everyone's expectations, and the movie grossed $5.5 million in its opening week.
David Helling, the director of His Only Son, announced that he has more faith-based films in the works. His next project, The Jacob Film, is in the early stages of pre-production. Angel Studios is crowdfunding the project, and we'll be able to see it on the big screen soon.
 
The Chosen Season 3
Another film that pleasantly surprised me was The Chosen. Also distributed by Angel Studios, The Chosen has become history's #1 largest crowdfunded TV show. I have watched numerous movies and TV shows, but they all fall short compared to The Chosen. When I watched season one, I was completely absorbed in the story. They made the story of Jesus and His disciples come alive in a new way. From the actors to the screenwriting, The Chosen has created a compelling TV show that will transport you to the first century.
With the show garnering a dedicated fanbase and loyal supporters, they have successfully transitioned their latest episodes onto the big screen, starting with the birth of Jesus in a Christmas special in 2021. The following year, Angel Studios released the first two episodes of season 3 in select theaters around the globe. It turned out to be a huge success. With impressive box office earnings of over $14.6 million, fans went wild for the new season, prompting The Chosen to bring the final episodes of Season 3 to the theater for a limited time.
As an avid fan of The Chosen, I wanted to take advantage of the opportunity to see my favorite show on the big screen. I had been following along with season 3, and I knew that the final two episodes would focus on the story of Jesus' feeding 5,000-plus people. What I didn't know, however, was that the last episode would include one of my favorite Bible stories: Jesus and Simon Peter walking on the Sea of Galilee. There are many ways that a screen adaptation of this story could go wrong. Jesus walking on water could've looked fake. Simon's boldness to ask to join Jesus on the waves could've come across as cheesy. But, instead, The Chosen produced an impeccable scene.
Without giving too much away, the scene is a tear-jerker. The chemistry between Jonathan Roumie, who plays Jesus, and Shahar Isaac, who plays Simon Peter, made the scene feel so real, as if I was watching the story unfold in real-time. The Chosen released a mini-documentary about how they made the scene come to life, and you can watch it on YouTube.
The Chosen is a must-see. You can watch the episodes for free on The Chosen App. But please be sure to proceed with caution: you will get hooked.
 
Jesus Revolution
If I had to pick a favorite decade, I would choose the 70s: the bright colors, the fashion trends, and the surfing culture that peaked during that era. But a darker side to that decade gets skimmed over today. While fashion and surfing were at their pinnacle, drug use rose. Many teens and young adults turned from their faith and tried finding fulfillment in drug substances. The result was disillusionment.
In an era all about finding happiness and peace, many were left unsatisfied. This is where Jesus Revolution picks up. Set in the early 1970s, the film follows a group of countercultural hippies who chose to find fulfillment in Jesus instead of drugs. Following the life of Greg Laurie, portrayed by actor Joel Courtney, the film tells the story of his conversion from drug addiction to a life following Jesus.
While the movie deals with challenging subjects like drugs and strained relationships, the filmmakers found a balance of humor unparalleled to other Christian movies. Actor Jonathan Roumie portrayed the charismatic pastor Lonnie Frisbee, and he brought a dose of whimsy that had me smiling through the whole film.
Jesus Revolution stayed true to the slang and style of the 70s, and they presented the gospel in a way that wasn't cheesy or out of place. It's a must-watch and is now available everywhere on DVD and digital.
Unsung Hero
Brothers Joel and Luke Smallbone of for KING + COUNTRY certainly wear a lot of hats. Not only are they musicians and excellent performers, but they're also filmmakers. In 2016, they released their debut movie, Priceless, and now they're back with their second feature-length film, Unsung Hero.
If you've ever seen the brothers in concert, you've probably heard them tell their story of immigrating from Australia to the United States. With six children in tow, Joel and Luke's parents journeyed to begin a new life in America. The brothers shared, "This is a film about our Mum and motherhood, family and miracles, sacrifice and faith."
The best part is that Joel Smallbone portrays his father, David. Joel is no stranger to the big screen and has been an actor in movies like The Book of Esther, Like a Country Song, and his own film, Priceless. In Unsung Hero, he acted alongside notable celebrities Lucas Black, Hillary Scott, and Candace Cameron Bure (better known as DJ Tanner from Full House). I love the heartwarming emphasis on family in Unsung Hero, and the fact that Joel portrays his dad further establishes that this is a family film.
I recently saw a trailer for Unsung Hero while I was at the theater to see His Only Son. From what I've seen, this might be one of the best faith-based movies of the year. A release date hasn't been announced yet, but the film is in post-production. In the meantime, sign up for email updates at UnsungHeroMovie.com.
Testament
Few movies have captivated my heart and attention, like Testament: The Parables Retold did. Distributed by Angel Studios, the film reimagines the book of Acts in a modern-day context. In a way, Testament is like Star Wars meets The Chosen. There's action and adventure, but the Gospel is at the heart of it all.
Testament started as a feature film released in the Angel Studios app. Fans fell in love with the movie and characters, and now the filmmakers' dream is to turn it into a multi-season show. In pre-production, the show will start in Acts 2 on the Day of Pentecost. It will follow the journeys of Peter, Stephen, Mary Magdalene, John, and others from the book of Acts. But before the filmmakers can reach that point, they need some help.
In the same way, The Chosen started, the makers of Testament are crowdfunding the TV show. Their first goal is $500,000 for episode 1, and their second goal is $1 million for episode 2. It's a big goal but is certainly attainable. Previous projects like The Chosen and His Only Son have proved that Angel Studios has a great fanbase, and the reach of this upcoming show could be massive.
I was speechless after watching the original film, Testament: The Parables Retold. It was one of those films that drags you in and makes you lose all track of time. So I couldn't be happier they're working on a multi-season TV show to continue the story. If you want to help fund the show or watch the original movie, visit Angel.com/Testament. You won't be disappointed.
Grace Chaves is NRT's News Editor and one of our youngest writers. She's been part of NewReleaseToday since 2019 and will continue her writing journey by majoring in Writing at Point Loma Nazarene Univerisity in the fall.