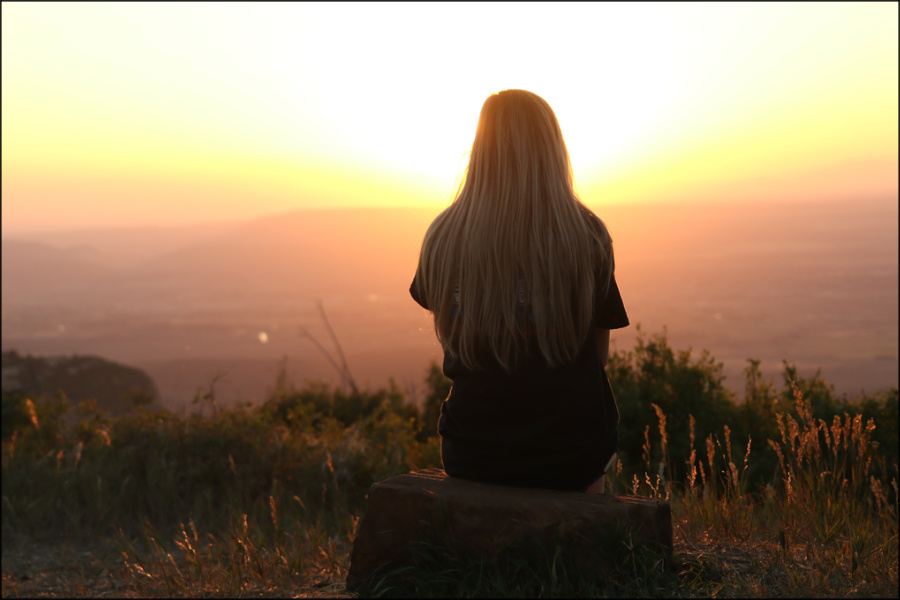 Vulnerability is a difficult thing to practice. It exposes the deepest parts of us that we often don't want others to see. It would be much easier to hide our pain, but if we did, we would never let the light in. If we always kept our hurt inside, we would never grow. We would never foster the meaningful relationships that we long for. Vulnerability is a skill that we all must learn.
Practically, vulnerability could look like sharing your hurt with a trusted friend or family member. On a bigger scale, the vulnerability could look like sharing your story publicly–whether on a stage, through social media, or through another outlet. And perhaps that is the hugest act of vulnerability there is.
Through NewReleaseToday, I've had the chance to be vulnerable and share my anxiety story. But, at first, I didn't talk much about my struggle. It wasn't an intentional decision–it just wasn't something I chose to discuss on a platform as large as NewReleaseToday.
It took two years before I started writing about my mental health battle. I shared my story when I wrote an article about peace. The decision felt natural, but I suppose that was when I realized my journey truly mattered. Hearing about another person's battle with anxiety freed me from my struggle, so sharing my story could also change someone else's life. I haven't looked back since.
Since that first article I wrote in 2021 about finding Jesus through anxiety, I've written other articles to, hopefully, bring someone back into the light. I've been sharing mine because our stories have tremendous weight and power. It turns out that many artists have also been sharing their stories.
In recent years, we've seen many Christian artists publicly share the mental hardships they've gone through. These artists have overcome difficult situations and now bring hope to people facing similar challenges. Through their songs and stories, artists bring light into others' darkness.
Today, we will explore the works of seven artists using their stories to promote healing and restoration.
Kristian Stanfill
In November 2022, worship artist Kristian Stanfill shared some of his stories on social media. Like so many, Kristian had struggled with alcohol addiction. Now, two years sober, Kristian is bringing hope to those undergoing the same struggles.
Shortly after going public with his story, Kristian released his newest full-length album, Make It Out Alive. The 11-track album is full of honesty from front to back. Instead of hiding the mess of his history, Kristian released a vulnerable collection of songs to remind listeners of the grace we have in Christ.
Throughout the record, Kristian clarifies that we can't face challenges alone. With the help of Jesus and some close friends, he found freedom. We have the same hope today.
Whether you're struggling with an addiction, facing an unhealthy relationship, or searching for healing from a mental health battle, Kristian's album Make It Out Alive will give you strength for the journey. Listen to it here.
 
Amy Grant
Relationships are challenging. And no matter how old or young you may be, you'll never be an expert on them. We all make mistakes in our relationships with family and friends, but owning those mistakes can be difficult. In
 her latest song, "What You Heard," Amy Grant, the renowned singer/songwriter, openly expressed the strain in her relationship with a dear family member.
Amy sings in her new single, "I thought I was telling you I love you/I thought I could make it up with words/I was trying so hard to reach you, but that's not what you heard."
I appreciate the vulnerability found in the lyrics. I've heard very few songs from Christian artists about strained relationships, but there should be more. We've all dealt with painful relationships and friendships, but songs like these remind us that we're not alone. We're all in this together. That's the most comforting thing to be said when dealing with relational tension.
 
Steven Curtis Chapman
Losing a loved one can be difficult. But losing a child must be devastating. In 2008, the five-year-old adopted daughter of Steven Curtis Chapman, Maria Sue, died in a tragic accident. While the Chapman family may never fully recover from the grief of losing their young daughter, they've found healing through the pain. After Maria's death, Steven released his album Beauty Will Rise. As the first album following the tragedy, it addresses grief and loss yet provides hope to listeners.
After the album's release, Steven released his book Between Heaven and the Real World: My Story in 2017, where he further spoke out about the pain of losing Maria.
The pain and grief within the Chapman household has touched thousands. Suffering can either destroy people or bring them together, and it seems that the Chapman family has only experienced unity through their loss. Their journey of loss–although tragic–continues to bring hope that there is life and hope after death.
Brandon Lake
Mental health often doesn't get much attention in worship music, but contemporary artist Brandon Lake has changed that. He's been breaking the stigma around mental health, offering listeners hope through his songs. In May 2022, Brandon released his latest album, HELP!, a 10-song collection of songs birthed out of the weight of anxiety.
"I believe it's important that we are real, honest, and raw about the mental battles we face–that we bring them into the light so God can remind us of who He is and who we are," Brandon shared following the release of his newest album. "I believe we need honest songs, but we also need warfare songs to come against those attacks that try and keep us from being everything God wants us to be and from living truly free."
HELP! is comprised of just that; warfare songs. The title track is a cry for help during the storm of panic attacks. It's easy to believe we're alone in our mental health struggles, but albums like HELP! remind us that many others are battling the same things we are. It's refreshing to see such vulnerability displayed on a worship album, and I hope we see more records like this in the years to come.
TobyMac
In 2019, iconic pop artist TobyMac tragically lost his 21-year-old son, Truett McKeehan, to an accidental drug overdose. I'll never forget the day I heard the news.
I was with fellow Christian music fans at a pre-screening of the movie I Still Believe when our host broke the devastating news that Truett McKeehan had passed away. Our host was a friend of the McKeehans, and the entire gathering was filled with deep sorrow for him and the family. So we stopped–right there in the movie theater–to pray for them.
Although there will always be a missing piece of the McKeehan family with Truett gone, prayer is powerful. I believe our prayers in the movie theater that night were answered. While death seems final to the rest of the world, as Christians, we have the hope that there is life after death. While Truett's passing was a devastating tragedy, God has used his death to remind people of that truth.
In November 2022, TobyMac released his album Life After Death. The 15-track record features Toby's hit song "21 Years," a tribute to Truett written shortly after his death. It's a heavy song, and while it doesn't give answers, it provides comfort that there is hope after death. Toby sings in the chorus, "Until this show is over/And you run into my arms/God has you in Heaven/But I have you in my heart."
We can hold on to the fact that, no matter how sudden or devastating the loss is, there is purpose in pain, and there is life after death.
Grace Graber
At 12, singer/songwriter 
Grace Graber was diagnosed with PTSD and depression. After being bullied in middle school, she was ready to take her own life. But God put a song in her heart: "Take Me" by classic alternative band Hawk Nelson. That song saved her life, and from then on, she began learning to sing and play guitar.
Grace released her debut single, "Serious," in 2020, and since then has released fan-favorite singles like "Darkness" and "Conversation." Although she's new to the music industry, she's already reached a personal pinnacle in her career. Bringing her story full circle, she had the unique opportunity to record a song, "This One's for You," with the former lead singer of Hawk Nelson, Jason Dunn–the same artist who saved her life. The recently released song proves God's faithfulness.
Let Grace's story inspire your own: if Jesus could change her life and bring her story full circle, He can change yours and bring beauty from the ashes.
Tedashii
Another artist who experienced the heart-wrenching loss of a child is Tedashii. In 2013, the talented hip-hop artist received the devastating news that no parent ever wants to hear. On his way home from an event, he received a call from his wife saying that their one-year-old son, Chase, tragically passed away in a car accident. The devastating loss sent Tedashii spiraling into depression, which strained his marriage.
Following the loss of Chase, Tedashii released his vulnerable album Below Paradise. The weight of death and depression led him to a battle with substance abuse, which he opened up about on the track "Dark Days Darker Nights." But, as anyone who has struggled with substance abuse knows, drugs and alcohol can only get you so far. At some point, you have to stop running from the pain. You have to run back to the light.
A few months after losing Chase, Tedashii came back to his faith. He realized he couldn't handle his pain alone, and his family depended on him. Through the help of counselors, trusted friends, and his church community, Tedashii found renewed hope and purpose.
"God's goodness isn't predicated on our circumstances. He's good, regardless. I think that was a wrestle early on and still is at times," Tedashii shared with Christian Post. "This is something we'll live with for the rest of our lives. We'll be in that select group of people who experience this, but God's goodness is evident, even in my hardship."
 
No matter what you may face in this life, I pray these artists and these stories give you hope. Whether you're knee-deep in a mental health crisis, navigating a devastating loss, or torn relationship, you're not alone. In time, you'll find healing. One day, you can share your story and bring hope to others who struggle.
Keep being honest. Keep letting the light in.
Grace Chaves is NRT's News Editor and one of our youngest writers. She's been part of NewReleaseToday since 2019 and will continue her writing journey by majoring in Writing at Point Loma Nazarene Univerisity in the fall.