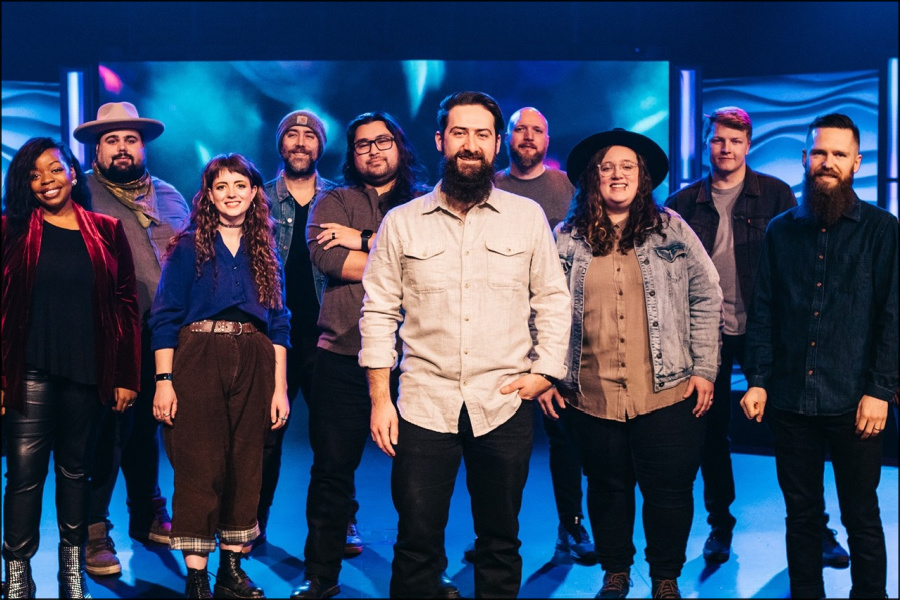 The Responding is a worship ministry of Crossroads Community Church in Vancouver, Washington. It's a community of artists, songwriters, worship leaders, and musicians dedicated to proclaiming that Jesus is real. Through their music, they aim to inspire people to live a life of simply responding to Him. This ministry includes members from both Crossroads and its extended family, working together to create meaningful worship experiences. Through their music, they aim to equip the Church with worship songs that help people connect with Jesus while pursuing creative excellence. 
The worship band has released four projects: Your Kingdom Is Here (2014), No Name Is Higher (2016), It's Only You (2019), and their latest EP, Victory's Name (2022). I spoke with Crossroads Community Church Worship Pastor and The Responding vocalist and songwriter Mikey Moore about the band's beginnings, how worship leaders and pastors can work together, and the inspiration behind their songs.
Could you tell me how The Responding started writing and releasing songs and where the band came from?
The project was already in motion before my involvement with Crossroads Community Church. Our lead pastor, Daniel Fusco, who had prior experience as a professional bass player touring, came up with the idea about a year or two prior. Upon becoming the lead pastor at Crossroads, Daniel recognized the unused potential of the studio constructed by the Church in the early 2000s. He proposed the idea of utilizing the studio and creating a record label, Responding Records.
I met a guy named Brandon, who had already known of my work as I had previously toured in a band called The Exchange. Brandon invited me to join the Responding Records roster, and I gladly accepted the invitation. We started writing songs with people, including myself.
The ministry's name, The Responding, fits Crossroads' mission statement: "Respond to Jesus." As a band, we're simply responding to Jesus. It's not a complex mission statement, just our drive in every moment, every breath, every song, and every melody. We're simply responding to Jesus.
What was the writing and recording process like for the latest EP, Victory's Name, and what was the inspiration behind that project?
We wanted to create a live album or EP. This was our first time doing one, as all our previous releases were recorded in the studio. But we're a worship band. And the biggest part of being a worship group is that we play songs with people in a room singing them. We must create a live album with people singing the songs with us.
Aside from that, every year, as a tradition, we set a goal to write Christmas and Easter songs. Along with that, we align our church's theme for these celebrations with the featured songs.
Singer-songwriter Channing Stockman collaborated with one of our producers, Aaron Olson, to develop a great idea for a song. They came up with this song called "Victory's Name," and we're like, "This is the Easter song. This is great." So we built the EP's other songs around the idea of Easter. The pursuit of personal revival within our church community was another significant factor that influenced the creation of the EP and the song "Big Revival."
The recording process for "Victory's Name" involved many different people and parts. We have many great musicians at Crossroads, so half the people who played on the EP were church volunteers. The other half were staff members–me, Channing, Aaron, and one of our pastors, Gabe Moreno, who played acoustic guitar. Most of the EP was recorded live in a room, with some overdubs added later. We included many people who would only sometimes get studio work or time into the studio process. 
What are some ways you have found to create a culture of collaboration between the leaders who teach in the church and those responsible for leading the worship?
We start by establishing a good relationship as friends and colleagues. I have an excellent relationship with Pastor Daniel, whom I met when I was guest-leading worship at Crossroads. I wasn't even on staff but a step-in worship leader. He would play bass sometimes when I would come down. We made music and traveled to conferences together several times. We became friends first, and our professional relationship grew stronger over seven years of working together.
We trust each other. He trusts me to help with song selection and incorporate our writing, even for the songs we use on Sundays. He never questions my decisions. Again, this is a testament to the trust that we have built over time. Trust allows that synergy to say, "Oh, you're planning that? Okay, I trust you. I'll do my thing. You do your thing. And we'll work this out." There's not a lot of second-guessing happening.
The title track, "Victory's Name," is a unique song sonically and lyrically. Could you talk more about the song's message, how you decided on its sound, and the EP's sound?
I'm a down-the-middle Christian contemporary, pop, rock, and worship vocalist–even my worship style is like that. But If Channing were here, he would talk about it. Channing grew up on country music in North Carolina. He has a passion for music with Southern vibes and enjoys writing in that style. He also writes music for other artists in that genre. The song's vibe was primarily influenced by Channing, who composed 90 percent of it. He drew inspiration from his affection for southern roots and the Gospel sound, which is reflected in the song.
If you listen to "Heaven's Anthem," you can hear Channing's influence and vocals. The song fits in the Southern rock genre. And when you hear "Victory's Name," you're like, "Oh, okay, this makes sense. Channing's vocals fit very well in this type of genre." It's just because they're both the style of worship that we tend to lean towards anyways.
As you have been leading the songs from "Victory's Name" either in your church or elsewhere, have you had any notable experiences while leading these songs during corporate worship?
"Bring Revival," one of my favorite songs from the record, deeply resonates with our congregation. At first, when you sing it or read the lyrics to it, it can be like, "What are they talking about?" Because the song goes, "Tormented mind, captured child, blinded eyes, a house divided." When you hear and sing these lyrics, you're like, "Oh, this is kind of abrasive language."
It has been an incredible experience to perform the song and then take a moment before repeating the bridge to explain that it pertains to people struggling with mental health issues. We're also talking about child trafficking, child slavery, and churches that have divided themselves between political views. We're talking about the fatherless–the people who don't feel like they have parents or people who have loved them but have a Father. 
It's getting to explain those pieces of the song, and then it connects with them when they sing it again. This is for anybody who feels these things. There's a God that loves you, and He's restoring all things. And that's been incredible because people have cried after hearing that bridge. After all, they're like, "Okay, I fit in one of those categories, and it reminds me how much God loves me. God cares for and sees me in my brokenness in this area."
How can we pray for you?
We're praying for new worship leaders. We feel the Lord will raise some younger, new leaders from the next generation. We're seeing a few of them developing their gifts. Who knows? Maybe the Lord has them as the future members of The Responding, writing, and having music that the Lord wants to do through them. So we're praying that we would be ready for that, that we'd be ready to disciple and mentor them well so they grow up in the way of the Lord, as well as develop their skills.
Victory's Name is available now. Buy the album on Apple Music or stream it on Spotify.
 
NRT contributor Jasmin Patterson is a lifelong fan of Christian music who is passionate about helping others connect with Christ. She lives in Kansas City where she serves in college ministry and runs a blog to help seekers and believers discover and live biblical Christianity.