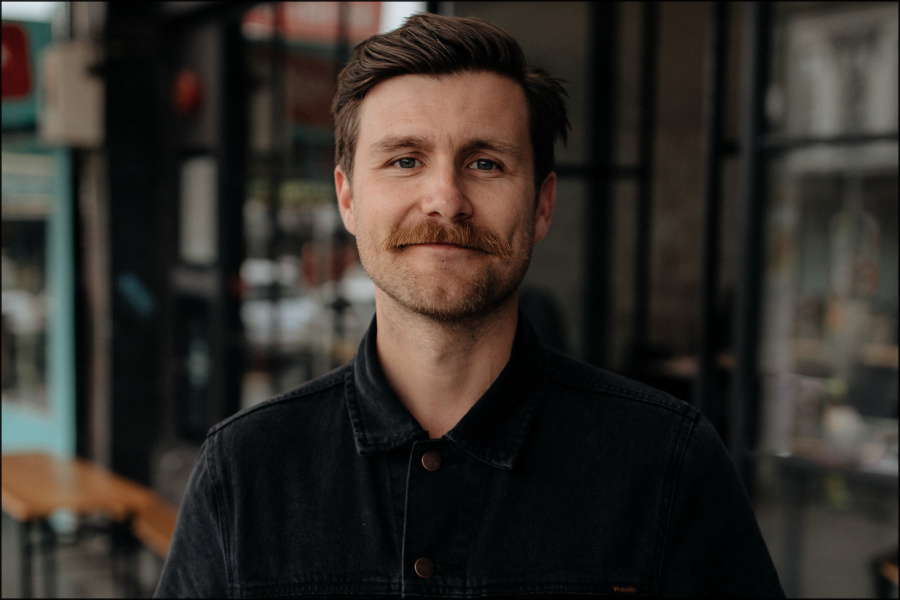 I first became familiar with the work of songwriter, author, and poet Strahan Coleman through author and pastor John Mark Comer. John Mark hosts the podcast Rule of Life, and on this particular episode, he had this cool guy from New Zealand named Strahan as a guest. After hearing their conversation about prayer and the practice of silence and solitude, I knew I had to get Strahan's latest book Beholding. As a writer, I geeked out over his knack for writing and poetry. And as a Jesus follower, I was in awe over how he formed words around the beautiful act of beholding Jesus.
Over the years, I've learned much about this act of beholding Jesus. And in doing so, it completely changed my theology. I used to view God as a "cosmic vending machine." Like He was the product, and I was the consumer. I would ask Him for things when I needed Him and pray only when I was desperate. But my life radically shifted when I hit a wall with anxiety.
I had struggled with anxiety for years, but only when I was at my lowest point did I realize my need for Jesus. Only then did I understand that He's more than a "cosmic vending machine" or a transactional God. He's a God that I can behold and be held by. And He's so much more beautiful and compelling than I can ever know.
There's a depth to prayer and relationship with Jesus that many people lack: many are missing out on simply beholding. That's what Strahan Coleman's newest book is about. In the same way that anxiety revealed my desperate need for Jesus, chronic illness unveiled what a beholding life with Jesus looks like for Strahan.
I recently chatted with Strahan about his book, Beholding, his ongoing struggle with chronic illness, and the poetry he now writes after spending several years as a full-ti. We had a wonderful conversation, and I hope it encourages you in your walk with Jesus.
 
What's the story of Beholding, and why did you write a book about prayer?
I've been a musician my whole life. I started writing music when I was eight and spent my twenties recording albums. But I've also worked in the church, primarily in prayer. Beholding tells the story of a big transition in my life, from being an active touring musician to becoming unwell for several years. When I had this health crisis, I had to learn how to move from a working relationship with God to a friendship.
Beholding was a happy accident. In 2020, when everything shut down due to the pandemic, I lost all my work. I was supposed to be on tour with Christian artist John Mark McMillan the month COVID closed our borders. I didn't know what to do with my time, so I began to write a manifesto. I wanted to write a book that said, "Here's the theology to practice a life of prayer."
I'm no professional at prayer by any means. I feel like I'm still a child. But many feel lost with prayer–even people who have been praying their whole lives. So I wanted to write this book to say, "If this is where you're at, here's the starting place."
I penned a few essays and sent them to my friend, John Mark Comer. I wanted them to come out as an ebook. But John Mark passed it along to his agent, and they were interested in it. Then I hired a literary agent and talked to seven or eight publishers. They signed it as a book deal, so for the isolating months of 2020 and 2021, I sat in my cabin by the beach and wrote the whole book.
In your chapters Relearning to Breathe and A Love That Changes Things, you touch upon consumeristic prayer and the transactional gospel, where God is seen as a product, and we're the consumer. This perspective portrays us as having a debt and God sending His son to pay it off. While forgiveness is a crucial aspect of the gospel, friendship and reconciliation play an even more significant role. Can you elaborate on this subject?
We have developed a mindset where we believe that we need to produce products for God and that, in return, God will produce products for us. We often think that God wants something out of us, like if I become a pastor or give lots of money to the poor, God will give things like security and blessings. We're so engulfed in consumerism that we see God as someone who gives us things, and God sees us as someone who gives Him things.
In our relationship with God, we think that the primary purpose of prayer and the gospel is that Jesus came to die for our sins. And that's true; Jesus did come to die for our sins. But if that's all you believe, you're left with always talking to God about sin and asking for forgiveness. But in the New Testament, we see a different word. We see forgiveness and reconciliation. Jesus came to reconcile the world and all things to Himself. Reconciliation is greater than forgiveness. Forgiveness clears the debt, but reconciliation says, "Come, be with me. Let's restore what we lost. Let's be friends. Let's be intimate."
In my book Beholding, I try to make the case that Jesus came for more than our sins. He came for our friendship, and that changed everything about prayer. It makes prayer the place where we can coexist with God. Where we can enjoy and be enjoyed by God. This concept shocks people and makes them uncomfortable to think that God wants to take pleasure in them. It's wild to us because we're so sin-focused.
I'm not saying that sin doesn't matter and Jesus didn't die for us–of course, He did. But sin was just the thing that needed to be dealt with for the greater achievement of unity between humanity and God.
Another chapter I'd like to highlight is Praying With Our Bodies. As someone who has battled anxiety, I could relate to what you were saying. How have you integrated praying with your body into your life, and could you give a quick overview of how this works?
I've been chronically sick for the past ten years. That means for significant periods, I can be incapacitated due to my health. For four or five months, all I could do was sit in a chair, unable to move and battling brain fog. And if you're sick and unable to eat, you'll struggle with anxiety and depression. It can be hard to fight that, and God can feel so distant. When I can't string together a thought, then how can I pray? When I can't get words out of my mouth, how on earth am I meant to know God?
I realized that the gospel has to be more than just a mental, conscious dialogue with God. One day when I was very sick, I prayed, "God, would you hear my body pray?" What I meant was, "My mind and body are sick. I don't know what to say, but my body is sick, broken, and saturated in sin and death. It's screaming out for salvation and healing. Whether I'm awake or asleep, let my body do the prayer. Let my body say, 'Heal me, commune with me.'" This brought about a tremendous sense of peace.
I was inviting the Holy Spirit into my brokenness. In that place, my communion with God transcended my mental state. It helped me throw myself into the ocean, float on the surface, and say, "God, I want to float in your love. Can you hold me when I can't feel you? Can I trust you like that?" I felt like his response was, "You can trust me. I love you. I can hear you."
Our bodies are holy and sacred. When we eat or sleep well, that's worship. It's saying to God, "You're right and good, and my body is participating in that goodness." And when we're anxious and don't know how to bring our minds to God, even if we kneel or rest, we're treating our bodies according to God's desires. This type of worship fosters intimacy with God, even when we struggle to comprehend Him intellectually.
How can we adopt the practice of beholding Jesus in our day-to-day lives?
It starts with understanding the meaning of life. It begins with realizing that God is passionate about knowing us, and that's the purpose of the gospel. The gospel takes us not just to the Fall, where we fell into sin. Before that, we woke up in the world with God face-to-face, breathing His breath into us in this profoundly intimate and vulnerable place. The meaning of life is to live face-to-face with God and know Him intimately. And if we can't rediscover that gospel, we'll never grow into intimacy with God.
Beholding starts by realizing there's more to life than being a machine servant to God. He wants a friend. More than that, Jesus called Himself the bridegroom. He wants a bride.
We also need to change the way that we practice our faith. We best learn things by doing them, and in prayer, that looks like taking time to be silent before God and receiving His presence and love. It looks like memorizing scriptures and constantly turning our hearts toward God throughout the day. It looks like turning to God and saying, "Father, I see you. I love you. I want to be with you." At the heart of it, all is beholding. Beholding is gazing lovingly into God as He gazes lovingly back into us.
That's what the gospel is to me. I think gazing lovingly into God's eyes as He gazes lovingly into us is the primary purpose of our life. It's the meaning of our life, and everything else is downriver from there. It's not that we can't pray about a decision or pray for repentance, but all of that leads to the greater invitation of connection with God.
You define yourself as a "contemplative charismatic." Why is it important to practice both our faith's charismatic and contemplative sides?
I come from a very charismatic background. I love those charismatic environments and postures of worship, but they only offer a part of this experience with God. Looking back on history, we see a vast contemplative tradition of people retreating into silence and solitude through liturgy. It's called contemplation, which is purely gazing at God. 2 Corinthians 3:18 (NIV) says, "We all, who with unveiled faces contemplate the Lord's glory, are being transformed into his image with ever-increasing glory."
Paul says in Ephesians 6:18 to "pray at all times." I appreciate this verse because it speaks to my desire to participate in communal worship by lifting my hands while also being able to withdraw, close my eyes, and sit in quiet contemplation of God, admiring Him personally. In both spaces, I've experienced something unique about God.
I think of working out at a gym. Here in New Zealand, we have this thing we call "chicken legs." If you go to the beach, you'll probably see a guy whose upper body is ripped. But then you look at his legs, and he has skinny, thin legs with no muscle because nobody wants to do leg exercises at the gym. But everybody needs to. In prayer, we don't want to get spiritual "chicken legs." In other words, we don't want to be so focused on one part of what God has to offer us that we miss out on the others.
If we're always loud and energetic, we lack the gentleness, compassion, kindness, and subtlety of God. But if we're only contemplative and always sit quietly, we often need more passion, fire, energy, and courage from the Holy Spirit. We need to find a way to bridge those two things together.
I'd love to talk about your beautiful poem "Never Alone." It was released on your album, Vulnerability. This poem has taken on a life of its own, and during the pandemic, singer-songwriter Amanda Cook included it in a live worship and prayer recording. Where did the idea for the poem come from?
I've been writing songs since I was eight. For decades, it was normal for me to pick up a guitar and write several songs daily. It wasn't so much of a job as it was an expression of who I am and how I connected with God. But when I became sick and couldn't sing, I felt lost. I didn't know what to do with my desire for music.
During that season, I spent time in silence and solitude at a Franciscan retreat center. During those times, words would bubble up inside me, but I couldn't sing. So I would pick up my iPhone, open Notes, and write inspirational thoughts and prayers. That's how "Never Alone" came about; it was spontaneous.
Writing poetry and prayers was a massive accident; it wasn't a conscious decision. I was only looking for a way to express my intimacy with God and the creativity of my soul. I ended up recording "Never Alone" myself, and it's included on my album Vulnerability. That record was a turning point for me as I began to explore the practice of prayer more deeply, and I even included the poem in one of my prayer books. Those prayer books made their way into places that surprised me, and Amanda Cook was one of the people who picked them up.
Watch Amanda Cook's worship and prayer recording here.
 
After talking so much about prayer, I must ask–how can we at NewReleaseToday be praying for you?
I would appreciate prayer for my health. I'm still on a rollercoaster with my health journey and long for healing. So pray for health and also for discernment. I want to discern God's voice and learn how to live this life with the body of Christ. I want to obey His voice and love this generation.
How can our readers connect with you and purchase your books?
You can find my book, Beholding, on Amazon.com. My prayer books are for sale at CommonersCommunion.com, and I have a podcast to help people grow deeper with God, also found on my website.
Grace Chaves is NRT's News Editor and one of our youngest writers. She's been part of NewReleaseToday since 2019 and will continue her writing journey by majoring in Writing at Point Loma Nazarene Univerisity in the fall.