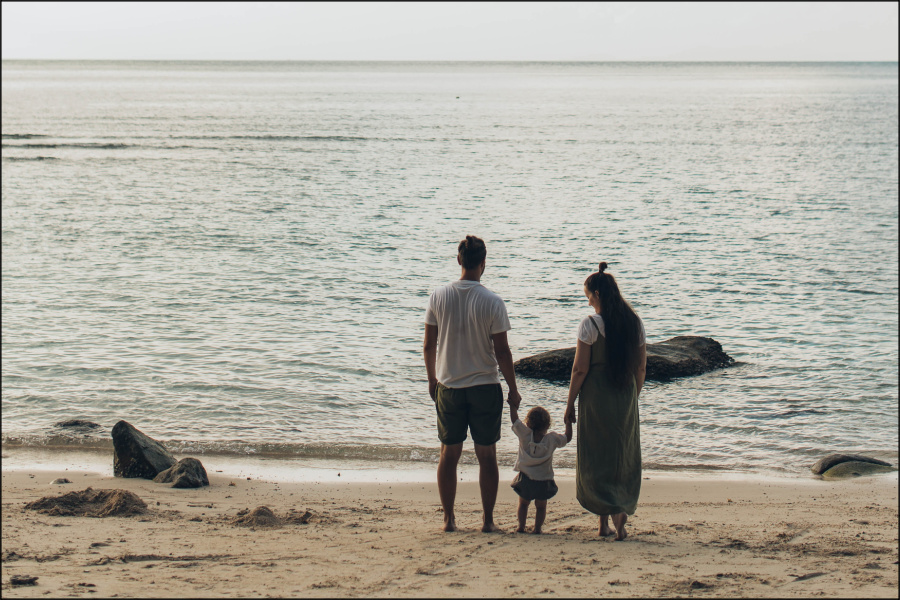 One of my fondest memories growing up is doing devotionals with my parents. Gathered in the dining or living room, my dad would lead us in Bible studies, usually referencing author Nancy Guthrie's book One Year of Dinner Table Devotions.
As I grew up, my dad incorporated worship songs into our family devotionals, fueling my love for Christian music. With music from iconic groups MercyMe, Third Day, or Passion Music, my dad played one of his favorite songs before diving into our devotional conversation.
As a kid, I let my mind wander (and still do at times), so I honestly only remember some of what my dad talked about. But I still remember the colorful cover art of Nancy Guthrie's book and the music filling our home before family devotionals. Over time, our weekly family discussions morphed into watching sermons online from other pastors and teachers. But I still fondly remember those devotional nights, seeking Jesus together as a family.
What if families could unplug and connect during an age of technology and distraction? You don't have to be a pastor to lead your family in Bible studies. There are many resources to help you, along with Christian songs, to pave the way to meaningful discussion.
Today, I'll highlight seven songs, Bible verses, and prompts you can use as a launch pad for your family devotionals. I'll also end with a few devotional guides I recommend for various ages. Let's go ahead and jump in.
Brandon Lake, "Gratitude"
Psalm 103:1-5 (NIV): "Praise the Lord, my soul; all my inmost being, praise His holy name. Praise the Lord, my soul, and forget not all his benefits–who forgives all your sins and heals all your diseases, who redeems your life from the pit and crowns you with love and compassion, who satisfies your desires with good things so that your youth is renewed like the eagle's." 
We're so quick to forget what God has done for us. This has been true for me; Jesus has been so good to me, yet I often forget that fact. I'm quick to let fear and doubt back into my life when God's goodness isn't at the forefront of my mind. But Psalm 103:1-5 is a beautiful reminder of God's goodness–his "benefits," as the psalmist writes.
Fear and praise cannot be in our mouths at the same time. Gratitude always displaces worry. Remembering all that Jesus has saved you from and how He redeemed "your life from the pit"  gives you the courage to step forward. Gratitude does wonders for our souls. Let worship artist Brandon Lake's song "Gratitude" be your soundtrack as you displace fear with praise and worry with thanksgiving. Lift up your song. You have a lion inside of those lungs.
"Come on, my soul/Oh, don't you get shy on me/Lift up your song/'Cause you've got a lion inside of those lungs/Get up and praise the Lord."
Passion Music, "All About You"
Isaiah 26:8 (NIV): "
Yes, Lord, walking in the way of your laws, we wait for you; your name and renown are the desire of our hearts." 
We, kids and adults, need to get better at practicing humility. In a me-centered culture, we often put ourselves before others, with God as our last priority. We need to flip the script.
Every miracle and breakthrough has always been God at work. It's always been about His glory, not our own. He deserves first place in our lives. "All About You" from Passion Music reminds us of this truth, and Isaiah 26:8 ties it together. Jesus' glory should be the desire of our souls. His fame should be our priority, not our own.
"Every story of impossible miracles/It's all about You/Every story of a prodigal coming home/It's all about You/Every story of revival I know/It's all about You."
Jon Guerra, "The Lord's Prayer"
Ephesians 6:18 (NIV): "And pray in the Spirit on all occasions with all kinds of prayers and requests. With this in mind, be alert and always pray for all the Lord's people." 
Prayer is one of the most important disciplines of our spiritual life. It's how we communicate with Jesus. It's like a direct access line to the throne room of heaven. And the beautiful thing is that every person on earth has this same access. I've heard there is "no junior Holy Spirit," meaning that any age can have the same direct access to God. Anyone of any age can and should pray.
The Lord's Prayer was the model Jesus used to teach His disciples how to pray, and it's the same template you can use to teach your kids about prayer. Found in Matthew 6:9-13, Jesus used this template to teach His followers how to approach God. He said they could ask boldly for God's kingdom to come. They could ask for food and forgiveness. They could intercede on behalf of others. Nothing was off limits.
The focus verse says, "Pray in the Spirit on all occasions." Every day, we should be in communion with the Holy Spirit. Jesus longs to hear from you, and He's ready and willing to listen to your needs and desires. Not only that, but He's willing to meet and converse with you.
Contemporary artist Jon Guerra's song, "The Lord's Prayer," is a helpful way to memorize this important model prayer. Let the words shape your own cries to God. Don't be afraid to talk to Him; He's longing to hear your voice.
"Our Father in heaven/Hallowed be thy name/Thy kingdom come, thy will be done/On earth as it is in heaven/Give us this day our daily bread/And forgive us our sins/As we forgive them that sin against us."
Chris Tomlin, "Holy Forever"
Revelation 5:13 (NIV): "Then I heard every creature in heaven and on earth and under the earth and on the sea, and all that is in them, saying: 'To Him who sits on the throne and to the Lamb be praise and honor and glory and power, forever and ever.'" 
We often hear the word "holy" at church and in Christian music. But what does that little four-letter word mean? We tend to associate the word "holy" with loftiness–like God is so far out of reach, too "holy" for us to access. But "holy" actually means "set apart."
To be holy means to be separate from worldly things and pure, making God the embodiment of goodness and beauty. It means He deserves all praise, honor, glory, and power as all creation declared in Revelation 5:13. But because He's separate does not mean He's separated from us. God sent His son to tear down the divide between us. God is perfection, but He isn't prideful. He still wants to be with us and intimately knows us. He still wants to hear our praise.
Together, let's declare God's greatness. Let's marvel at His holiness and perfection. Famous contemporary artist Chris Tomlin's worship song, "Holy Forever," puts music around this idea and declares praise for God. Let's join the angels in heaven and sing that our God is "holy forever."
"Your name is the highest/Your name is the greatest/Your name stands above them all/All thrones and dominions/All powers and positions/Your name stands above them all."
Seph Schlueter, "Counting My Blessings"
James 1:17 (NIV): "Every good and perfect gift is from above, coming down from the Father of the heavenly lights, who does not change like shifting shadows." 
We often take blessings for granted. From the air we breathe to the roof over our heads, we're infinitely blessed but forgetful. Remember that these gifts weren't given to us by chance; they were given to us by the Lord. Jesus is behind every "good and perfect gift," as James writes.
Contemporary artist Seph Schlueter's song, "Counting My Blessings," reminds us of the gifts God has given us. The chorus says, "God, I'm still counting my blessings/All that You've done in my life/The more that I look in the details/The more of Your goodness I find/Father, on this side of heaven/I know that I'll run out of time/But I will keep counting my blessings/Knowing I can't count that high." We could never count the sum of all the blessings God has given us.
Rather than constantly focusing on negativity, focus your heart on gratitude. Lately, even medical studies have recognized how positively gratitude affects our lives. Gratitude has astounding effects on our health, while anxiety can be harmful. Today, I encourage you to focus on being grateful. Encourage your family to write a list of all the blessings in your life and thank God for all He has given you.
"One, two, three/Up to infinity/I'd run out of numbers/Before I could thank You for everything."
Phil Wickham, "The Jesus Way"
Matthew 16:24-25 (NIV): "Then Jesus said to his disciples, 'Whoever wants to be my disciple must deny themselves, take up their cross, and follow me. For whoever wants to save their life will lose it, but whoever loses their life for me will find it.'" 
The concept of "taking up your cross" can be tricky for adults and children. But ultimately, it means choosing the Jesus way. Taking up your cross means doing and living as Jesus would. Famous worship artist Phil Wickham's song "The Jesus Way" gives examples of how we can choose the Jesus way each day: "If you curse me, then I will bless you/If you hurt me, I will forgive/And if you hate me, then I will love you/I choose the Jesus way."
It's important to note that choosing the Jesus way does not mean staying in harmful situations. Forgiving those who hurt you doesn't mean maintaining dangerous relationships. But it does mean doing what Jesus did: loving them, whether from afar or up close. It means showing kindness, even when that's difficult or unpopular.
Children have an extraordinary chance to opt for the Jesus way, especially. At school, this could look like sharing lunchtime with a classmate who's often overlooked or showing kindness to a bully. But it's not just kids who can be a light for Jesus: we all can. We're each called to take up our cross and do what Jesus would. How can you choose to be more like Jesus this week?
"I follow Jesus/I follow Jesus/He wore my sin, I'll gladly wear His name/He is the treasure/He is the answer/Oh, I choose the Jesus way."
Brandon Lake, "Praise You Anywhere"
1 Corinthians 10:31 (NIV): "So whether you eat or drink or whatever you do, do it all for the glory of God." 
We often limit worship to what we do on Sunday mornings. But worship needs to be an ever-present aspect of every moment of our lives. Although we probably wouldn't go around singing 24/7 (but props to you if you do), we can praise God in other ways every moment.
1 Corinthians 10:31 says that whatever you do, do it all for the glory of God. This could look like showing kindness to a stranger or even simply thanking God for the food in front of you. Everything we do can be an act of praise if we allow God to open our hearts to see His goodness surrounding us.
Brandon Lake's song, "Praise You Anywhere," urges believers to praise God wherever life takes them. Using stories from Scripture, Brandon sings, "Sometimes you've gotta dance through the darkness/Sing through the fire/Praise when it don't make sense/Sometimes you've gotta stare down the giant/Worship from the lion's den."
Author and pastor Louie Giglio once said, "The antidote to fear is faith, and the soundtrack of faith is worship." Imagine a life where you appreciate everything you do and every situation you find yourself in. It could be life-changing. Let's choose to praise God anywhere.
"Praise, give Him praisе, give Him praise in the highest/Praise, give Him praise, give Him praise in the highest/He is worthy, yes, He is worthy of all of the praise."
Recommended Devotional Guides
One Year of Dinner Table Devotions by Nancy Guthrie (all ages)
Indescribable: 100 Devotions About God & Science by Louie Giglio (preschool – elementary school)
IRL Resources (middle school – high school)
At the Table with Jesus by Louie Giglio (high school – college students)
Simple Pursuit by Passion (college students)
Grace Chaves is NRT's News Editor and one of our youngest writers. She's been part of NewReleaseToday since 2019 and is continuing her journey by majoring in Writing at Point Loma Nazarene University in San Diego.