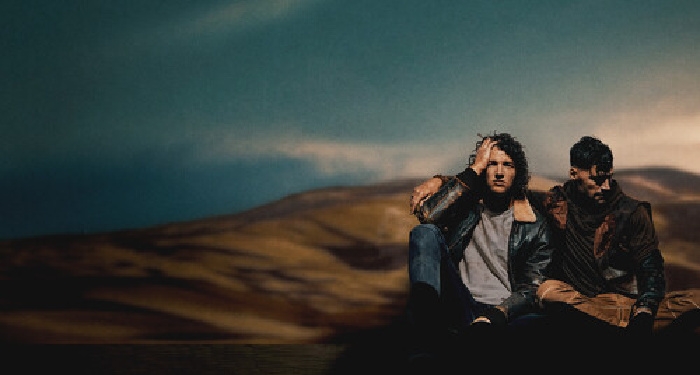 Multi-GRAMMY Award-winning and RIAA Platinum-selling Curb | Word Entertainment recording artist for KING + COUNTRY dropped the deluxe edition of their GRAMMY-nominated and American Music Award-winning album, WHAT ARE WE WAITING FOR? titled WHAT ARE WE WAITING FOR? +–purchase here. 
The expanded 17-track collection includes the duo's four most recent consecutive #1 singles: the Gold-certified "TOGETHER (feat. Kirk Franklin & Tori Kelly)," "RELATE," "For God Is With Us," and "Love Me Like I Am."; two brand new originals: the long-awaited title-cut, "What Are We Waiting For?" and "Better Man"; as well as two previously released duets: chart-topping "Love Me Like I Am (feat. Jordin Sparks)" and GRAMMY-nominated "For God Is With Us (feat. Hillary Scott)".

 

The duo recently released their epic music video for "What Are We Waiting For (The Single)," which was filmed in the Mojave Desert, California. The video takes the listener on a journey as the larger-than-life track challenges listeners to be the change they wish to see in the world, hoping to inspire a message of unity, action, and optimism. Watch the video here.
The synth-heavy deluxe album finds brothers Joel and Luke Smallbone pledging to be the best versions of themselves for their wives, who each inspire them to strive for excellence every day. Acknowledging their faults, the men aspire to greater heights and stronger bonds, tracing a pattern of bold harmonies across more than three minutes of atmospheric rock.
Says the Smallbones: "When you announce an album, you're announcing a new era. In some cases, that era lasts for a year and a half to two years, and as artists, you realize in that time there are going to be new iterations that come about. The deluxe album takes everything that took place in that time and ties it all in a bow. We feel that WHAT ARE WE WAITING FOR? + is the culmination point of the last two years. It's the ultimate version of the record."