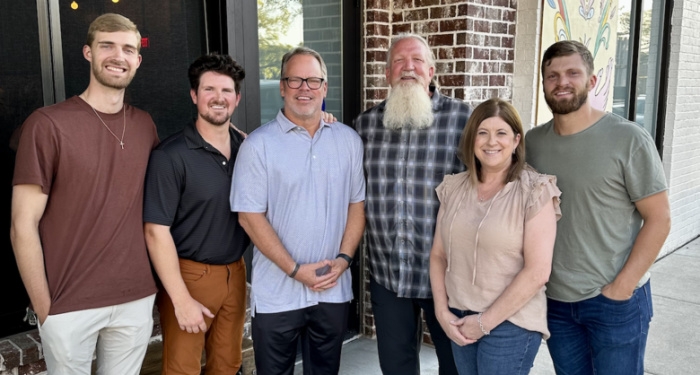 Industry veterans Scott Brickell and Ron Smith have announced a joint partnership within their respective companies. Scott Brickell, CEO and Founder of BrickHouse Entertainment, and Smith, who helms SMP Consulting, will operate cohesively under the BrickHouse Entertainment name.

 

Brickell and Smith, along with Chase Swayze, are managing partners of the company, while Kim Davis, who has been with the company for 24 years, has been elevated to COO. Rounding out the team are Caleb Gauntt and Jared Johnson. With their combined artist roster, BrickHouse Entertainment represents MercyMe, CAIN, Micah Tyler, Caleb & John, Iveth Luna, Micah Christopher, Christian Paul, and Bay Turner.
"With our common mission of supporting artists to develop lasting careers in the industry, it made complete sense for us to bring our companies together," said Brickell and Smith. "We look forward to what will certainly be an exciting new chapter ahead for BrickHouse Entertainment as we continue to support artists and grow our roster."
The news of the partnership comes on the heels of BrickHouse Entertainment celebrating its 25th anniversary as a company. Additionally, they are enjoying MercyMe's latest single, "To Not Worship You," to hold the No. 1 spot on the radio charts for its fifth week, along with CAIN releasing their latest album, Jesus Music, this Friday, October 13, accompanied by their new TBN series, Chasing CAIN, set to premiere next month. Adding to the accolades, Micah Tyler's "Praise The Lord" is currently top 5 at radio, and Caleb & John's "Hallelujah Feeling" recently hit top 10.
Specializing in artist and brand management, live tours, publishing, movie and book deals, strategic partnerships, and endorsements, Brickell and Smith's collective teams boast an astounding 80+ multi-format No. 1 songs, along with decades of experience within the entertainment industry. Representing many of today's top-selling, chart-topping, and award-winning artists, they have also worked with Switchfoot, VeggieTales, Phil Wickham, Audio Adrenaline, Rend Collective, and magician Justin Flom, among many others.