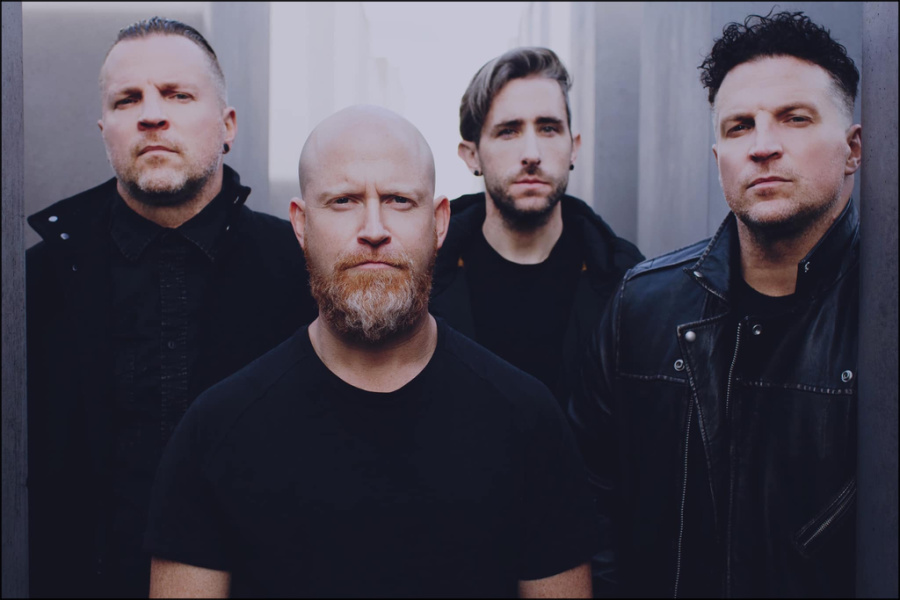 The music of Nashville-based Christian band RED is known for its heavy rock and metal influences and emotive and powerful lyrics that tackle love, loss, and faith themes. The band–comprised of Michael Barnes on lead vocals, Anthony Armstrong on guitar, Randy Armstrong on bass guitar, and Brian Medeiros on drums–has released eight studio albums, including their breakthrough debut album, End of Silence, in 2006, which was certified Gold by the RIAA, and their most recent album, Declaration, in 2020.
After over 20 years together, RED continues to chart on Christian Rock, Hard Rock, and Christian Albums charts. The band has also earned multiple GRAMMY nominations for their projects. They're known for their intense live performances and have toured extensively across the U.S. and abroad, sharing the stage with some of rock's most popular bands, such as Slipknot, Korn, and Skillet.
The group's music still strikes a chord with fans of rock and metal genres, thanks to their impactful and heartfelt lyrics that have moved countless listeners. Considering the recent Live and Unplugged release of Until We Have Faces and the announcement of their ninth record, Rated R, we look at some of the band's top tracks.
"Breathe Into Me" (End of Silence)
The band's debut album, End of Silence, has firmly established its place in the annals of modern rock history, thanks to its megahits such as "Already Over," "Pieces," and "Breathe Into Me." These songs showcase the band's distinctive modern hard rock style. This record won a Dove Award for Rock Album of the Year and is RIAA certified gold for "Breathe Into Me." After this debut, the song remains the foundation for the band's 20-year future.
 
"Death of Me" (Innocence and Instinct)
The band's second record saw a shift into a more focused melodic hard rock sound. More notably, influential musical elements were prominent, with stronger piano and stringed instrument usage. This, along with improved, mature songwriting, created a fan-favorite record for many years to come. "Death of Me" is one of RED's most impressive songs, with a deep, spiritual, and relatable message underneath the intense and masterfully crafted sound.
"Let It Burn" (Until We Have Face Live and Unplugged)
Taking on a more grunge and metal edge, the band's third album, Until We Have Faces, is a grittier record than the previous two albums. With over 16 critical reviews (including two from NewReleaseToday), Until We Have Faces has become a staple in the rock world without losing momentum from the band's success and growth.
Unlike the remixed 10th-anniversary editions of their first two records, RED took a more distinctive approach for their latest release. They recorded a full, live acoustic band performance and mastered it for this record's special treatment. The result is an intimate and exemplary display of acoustic mastery of music. "Let It Burn" is a prime example of the band's ability to blend their melodic side and aggressive musical power.
 
"Perfect Life" (Release The Panic)
The first potentially divisive record in RED's discography would be the 2013 album, Release The Panic. The band still received some glowing reviews, including a five-star one from our chief contributor, Kevin Davis. But the sound on this record was more pop and electronic-influenced, which some disliked more than the rest of their music up to this point. The band created a more melodic-blended Recalibrated EP that fits in much better with the rest of the band's music. Regardless, songs like "Perfect Life" prove that even when they experiment, they create emotive rock music that draws you in with their artistic nature.
"Shadow and Soul" (Of Beauty and Rage)
Often hailed as the fan-favorite, Innocence and Instinct's successor, Of Beauty and Rage, saw RED master the blend of melodic and aggressive music like never before. Michael Barnes, the lead singer, has a vocal range ranging from haunting melodies to incredibly aggressive screams, exemplified in songs such as "Of These Chains" and "Darkest Part. But, an overlooked gem in this record is "Shadow and Soul." The song explores the eternal struggle of those fighting sins, which truly resonates with every listener.
 
"Losing Control" (Gone)
With their sixth record, Gone, RED decided not to rely on "the same four chords," resulting in a more experimental sound, much like their previous album, Release The Panic. But, the emotionally charged and relatable songs RED is known for remain as truthful as ever. The most notable change on this album is the incorporation of electronic elements. Songs like "Losing Control" retain the RED that fans know and love as they tug at our heartstrings and draw us into the struggles we all face in life.
 
"From the Ashes" (Declaration)
Now independently creating and producing their music, RED sought to develop an outstanding record for their loyal fans who supported them financially through GoFundMe. An EP was initially released, with the songs making it onto the full-length. Declaration harkened back to the more industrial, hard rock sounds they were founded on. The song "From the Ashes" is an excellent example of songs like "Already Over" and "Fight Inside." The solid melodic presence with extravagant orchestral elements proves that RED knows what fans love. We hope for heavy music like Declaration from the band's newly announced Rated R record.
Ryan Adams graduated from Boise Bible College in 2017. He lives with his family in Montana.