On June 17th, popular contemporary band We the Kingdom stopped at Salem, a suburb west of Roanoke, Virginia. And at the concert, NRT's event photographer Chris Jackson stopped by to give us a complete concert recap.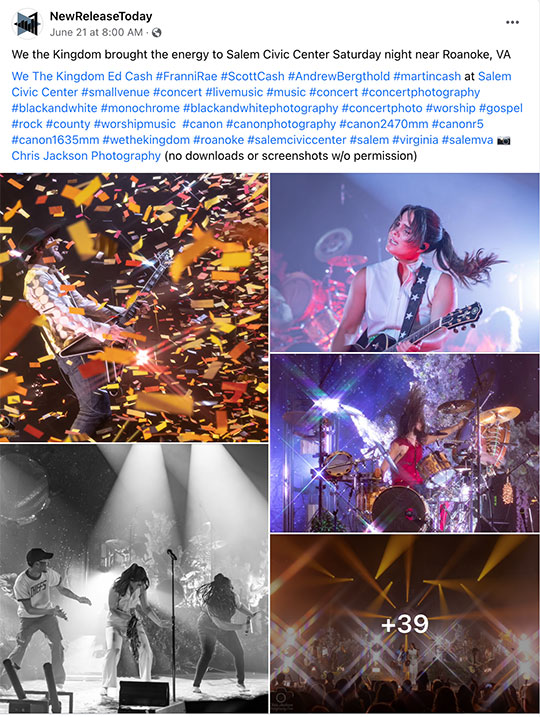 Filling the air with the graceful sound of worship at Salem Civic Center, emerging artist Patrick Mayberry's opening act took the stage to warm the crowd with a few beautiful worship songs. Intermission came, and people assembled to look at the band's awesome merchandise while some gave graciously to their child fund.
 
The lights went dark as people returned to their seats, and We The Kingdom took the stage. With a sizeable white drape in front of the stage, instruments began to play, and the We the Kingdom logo appeared front and center, shining bright. As the gospel country rock sound intensified, the curtain dropped, and the band popped into action, starting their set with "Left It in the Water." 
 
The crowd rose to their feet to an intimate night of dancing, singing, and giving glory to God. The band's colorful production and stage setup added to the beautiful feeling of energy with the songs: "Child of Love," "Don't Tread on Me," "Jesus Does," "God So Loved," "Cages," "God Is On the Throne," and "Dancing on the Waves." 
 
The crowd was wild as the band walked off, and the lights went out. Hearing the whistles and cheers, the band returned. Playing one last encore song, "Holy Water," confetti was shot into the air. The crowd cheered and moved to the song's sound as the night came to a very satisfying conclusion.
Click here to view the photo gallery.
Chris Jackson, an expert in photography and image processing, is the designated event photographer for NRT.