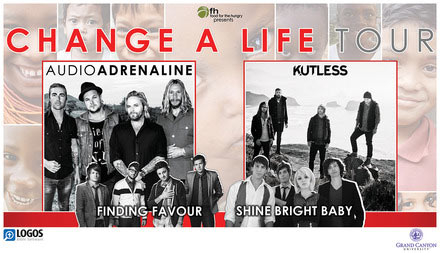 NEWS SOURCE: Southside Entertainment
March 7, 2014
ASHVILLE, Tenn. – March 7, 2014 – GRAMMY®-winning rockers Audio Adrenaline and top-selling modern rock/worship band Kutless will kick off the 33-city Change A Life Tour this weekend, presented by international relief organization Food for the Hungry. The Change A Life Tour will also feature special guests Finding Favour and Shine Bright Baby.
Launching on March 8, in Baxley, Ga., the Change A Life Tour brings together these two iconic bands – Audio Adrenaline and Kutless – for the first time. Always a high-energy crowd favorite, Audio Adrenaline will be touring in support of its current album, Kings & Queens, treating concertgoers to the band's latest singles, "Kings & Queens" and "Believer," along with a long list of crowd favorites. Kutless will be touring on the heels of its brand new studio album release, Glory (February 2014), performing the group's long-time hits as well as the new album's debut single, "You Alone," already a huge radio success.
As a special treat for fans, an exclusive VIP Pre-Show Experience will be offered on most Change A Life Tour dates, providing early entrance to the venue, an exclusive VIP laminate and tour collectible artwork item for autographs, a copy of Audio Adrenaline's Kings & Queens CD and an exclusive Q&A session with the band, followed by a photo opportunity for autographs. The VIP Pre-Show Experience is available to ticket buyers at the point of purchase. Tickets for all tour dates are available at www.AudioA.com.
The Change A Life Tour is presented by Food for the Hungry ( www.fh.org), and also sponsored in part by Grand Canyon University ( www.gcu.edu) and Logos Bible Software ( www.logos.com).
###
THE CHANGE A LIFE TOUR – SPRING 2014
*Dates, markets and venues subject to change without notice.
March
March 8 – Baxley, GA | Crossties Ministries
March 9 – Winston-Salem, NC | Salem Entertainment Sports Complex
March 13 – Clarkston, MI | Clarkston Community Church
March 14 – Waukesha, WI | Fox River Christian Church
March 15 – Gaylord, MI | Tree Tops Conference Center
March 16 – Hudsonville, MI | Hudsonville Christian School
March 20 – Hudson, OH | Christ Community Chapel
March 21 – Franklin, NC | Smoky Mountain Center for the Performing Arts
March 22 – Byron, GA | Middle Georgia Raceway
March 23 – Orlando, FL | Osceola Performing Arts Center
March 27 – Laurel, MS | Life Church
March 28 – St. Peters, MO | Calvary Church
March 29 – Branson, MO | Silver Dollar City
March 30 – Sedalia, MO | Matthewson Exhibition Center, MO State Fairgrounds
April
April 2 – Odessa, TX | New Life Chapel
April 3 – San Angelo, TX | Foster Communications Coliseum
April 5 – Bogalusa, LA | Cassidy Park
April 6 – Tyler, TX | Lanes Chapel United Methodist Church
April 10 – Evansville, IN | Christian Fellowship Church
April 11 – Lexington, KY | Northeast Christian Church
April 12 – Palos Heights, IL | Ozinga Chapel Auditorium, Trinity Christian College
April 13 – Freeport, IL | Masonic Temple
April 24 – Wayne, NE | Wayne Community Activity Center
April 25 – Lincoln, NE | Lincoln Berean Church
April 26 – Joplin, MO | Calvary Baptist Church
April 27 – Louisville, KY | Waterfront Park
May
May 1 – Boca Raton, FL | Boca Raton Community Church
May 2 – Naples, FL | Cambier Park
May 3 – Brandon, FL | Nativity Catholic Church Youth Center
May 4 – Cleveland, GA | Truett-McConnell College
May 8 – Perry Hall, MD | Perry Hall Family Worship Center
May 9 – Barre, VT | Barre Municipal Auditorium
May 10 – Egg Harbor Township, NJ | Atlantic Christian School
For the most up-to-date info on tour dates, visit www.AudioA.com.
ABOUT AUDIO ADRENALINE Since they became a band in the mid 90's, to date Audio Adrenaline has sold over 3 million records, has garnered two GRAMMY® Awards (for Best Rock Gospel Album of the Year for Until My Heart Caves In and Worldwide) and multiple Dove Awards. The band has achieved 17 No. 1 singles, was awarded CCM Song of the Decade for "Big House" and their 1996 album Bloom received RIAA Gold certification. In 2007, Audio A's lead vocalist Mark Stuart had to step down due to a medical condition called spasmodic dysphonia (involuntary muscle spasms of the larynx). Forced to stop singing altogether, the band chose to disband, turning their energies to their Hands & Feet Project, a non-profit organization dedicated to providing long-term, family-style care for orphaned and abandoned children of the world with the love of Christ. In 2012, prompted by a series of conversations with noted CCM artist manager Wes Campbell (Newsboys), Mark Stuart and Will McGinniss re-launched Audio Adrenaline, in partnership with Campbell and his agency, First Company Management. Together, they invited former DC Talk vocalist Kevin Max to be the new frontman for the band, as well as rounding out the new lineup with several CCM veteran musicians. Together, Audio A returns with the same heart, passion and infectious musical prowess, while serving as spokesmen for the Hands & Feet Project.
Original band members Mark Stuart and Will McGinniss are still very much a part of the re-formed band. McGinniss continues his role as the band's bassist while Stuart is very much a part of the overall brand management, writing for the new album as well as serving as Hands & Feet Project's Executive Director. With the addition of Max as lead vocalist, CCM vets Dwayne Larring (Sonicflood) on guitar and Jared Byers (Bleach) on drums, Audio Adrenaline made its highly-anticipated Fair Trade Services label debut with Kings & Queens in 2013. Net proceeds from album sales will go to Hands & Feet Project, the ministry that was founded by Stuart and McGinniss in 2004. For more information, please visit www.handsandfeetproject.org and www.AudioA.com.
ABOUT KUTLESS The Portland, Oregon-based band has released eight studio albums on BEC Recordings, including the brand new project Glory (Feb. 11, 2014). Kutless has two RIAA Gold-selling albums for Strong Tower and Live From Portland. The band has had 12 No. 1 radio singles across all formats including their major hits "Strong Tower," "What Faith Can Do" and "Carry Me To The Cross." In 2012, Kutless released their most recent studio release, Believer, to much media and sales acclaim debuting at No. 1 on the Billboard Christian & Gospel Chart as well as No. 1 on the iTunes Christian Albums chart.
Launched by original members Jon Micah Sumrall (lead vocals) and guitarist James Mead, the band formed first as a modern rock/worship band at Warner Pacific College in Portland in 2000. Kutless signed to Tooth & Nail/BEC in late 2001 and released its self-titled debut the following year, which went on to become the fastest-selling debut in the label's history. Kutless is John Micah Sumrall, James Mead, Nick de Partee and Kyle Peek
ABOUT FINDING FAVOUR
Comprised of Blake NeeSmith (lead singer/vocals), Dustin Daniels (bass/guitar/vocals), Josh Duckworth (drums) and Allen Dukes (guitar/vocals), the South Georgia group made an impressive debut with their emotionally powerful single, "Slip On By," from their acclaimed self-titled Gotee Records project. They have toured with The Afters, Hawk Nelson, 33Miles, Abandon, Todd Agnew, Anthem Lights and Phil Joel, to name a few. For more info, visit www.findingfavour.com.
ABOUT SHINE BRIGHT BABY
Comprised of four gifted musicians, each from Orville, Ohio, Shine Bright Baby features Emily Irene on vocals, guitarist Nathan Fertig, Joshua Fink on keys, guitars and vocals, and Karl Wendel on drums. Friends before they were bandmates, Emily and Nathan began performing in 2007 amongst the local scene in both mainstream settings and Christian circles. Soon after, Joshua and Karl joined Emily and Nathan to complete the quartet, whose unique band name comes from Philippians 2. The inventive quartet released its anticipated debut project, Dreamers, in 2013 on BEC Recordings. For more info, visit www.ShineBrightBaby.com.
Source: http://www.jesusfreakhideout.com/news/2014/03/07.Audio%20Adrenaline%20and%20Kutless%20Join%20Forces%20for%20Change%20A%20Life%20Tour.asp